by Earth First! News

A wild leopard estimated at 8-10 feet in length has been roaming the streets of the Indian town of Meerut, home to 3.4 million people, for the last three days.
Expansion of land conversion from forest habitat to agriculture and urban sprawl most likely pushed the leopard–suffering from loss of wild prey–into the city in search of food.
According to officials the leopard has injured seven people, including a police officer.
"A man tried to show a bit of bravado and went close to the leopard," said Abdur Rahman, the owner of cloth shop who was one of the observers. "The leopard injured him on his hand, and that created panic among onlookers."
Police are requesting that residents remain in their home for fear that the leopard will become more violent towards humans due to hunger and continued harassment.
A team enlisted to capture the cat shot it twice with a tranquilizer and trapped it in a portion of a hospital but the apex predator remained alert and broke through thick concrete to escape.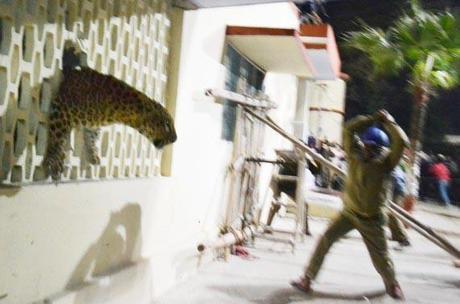 "He got a bit drowsy, but he was so powerful that he could break a concrete wall and jumped out," Mayukh Chatterjee of the Wildlife Trust of India told The New York Times. "In my last 16 years of work, I have not seen such a long and powerful leopard."