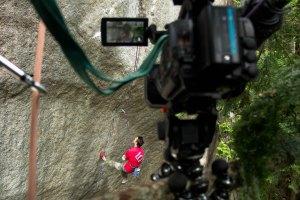 For the second time, The RV Project (in this case just me, Spenser) has gotten the privilege of filming professional climbers alongside professional filmers. Last time was in Vedauwoo with Sender Films, shooting Brad Jackson, Adam Papillion, and Bob Scarpelli climbing offwidths for the Wide Boyz segment of Reel Rock 7. This time: Canada, with Hot Aches. The climb: Cobra Crack, 5.14a. The Cobra Crack will be featured in Wide Boyz 2.
It was a lot of fun, and not too different from filming friends at the boulders, except that everything is dialed up a notch: the gear, the need to capture the right moments, and of course the seriousness of the route. What I'll remember most, though, is watching two consummate professionals do what they do best: bite off more than they can chew, and chew it anyway.
(If you haven't seen First Ascent, you must…if for no other reason than to become familiar with the famous mono-undercling-fingerlock, or the "F-You" move.)
The Invitation
Squamish transplant Alex Savage (of Savage Films) texted me on a Saturday a few weeks ago, saying he needed a second shooter for the Cobra. I'd met Alex earlier this summer at a "pad party" for a highball FA, and we would see each other regularly throughout our stay. Alex and I were there to capture Joe Maier and Kyle O'Meara sending Straight Outta Squampton, a notorious (and perfect) V9 highball first bouldered by Jason Kehl. You could say we bonded over highballs, while his girlfriend Natalie and I bonded over cinnamon rolls. Hot Aches asked Alex to help shoot, and Alex invited me along.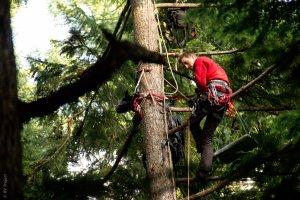 Alex doin' what Alex do.
(Vikki and I had watched Alex's Western Gold a few times to get psyched up for Squamish. The film caught my eye not just for the beauty of it, but for the sheer amount of effort and passion Alex put into the film. Watch it, and imagine you are the only cameraman for the whole movie…)
The Climbing and The Filming
I met Alex, Amanda, and the Wide Boyz Tom and Pete at the trailhead at 5:45am the next day. It was 10 or so days into their trip to Squamish, and they'd had a few days on the route to work out their beta. By the time I joined the filming crew, they were giving redpoint tries, and there was excitement in the air…we might see someone climb the Cobra!
A quick description of the route: It begins with a 20-foot long 5.12+ stemming groove leading to a hands-free stance on a small ledge. Here, the boys would rest, then climb up a short way to the base of the overhanging section, place a piece, and return to the ledge to fully relax. Another 5.12+ section follows, with a decent rest on a juggy flake. Two more pieces go in here, and a nut goes in the mouth (tee hee!) for easy placement below the crux. When they leave the flake, it's about 25-30° overhanging thin fingers. The locks are painful and the feet minimal. A quick placement of the nut and they're off into the final crux: long pulls through some hard jams on steepening rock. They gain the mono with the right hand, make a long reach to an index-down lock at the lip, pull through to a pinky lock above the lip with the right, and throw the right heel above the right hand. A few thuggy moves lead to a good stance, or a nice whipper into space.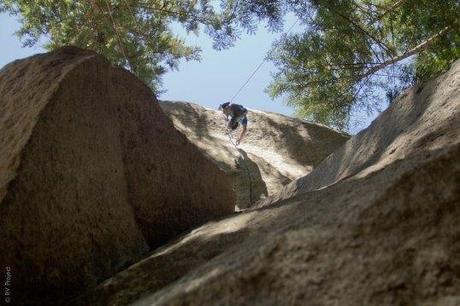 The Cobra, in all its glory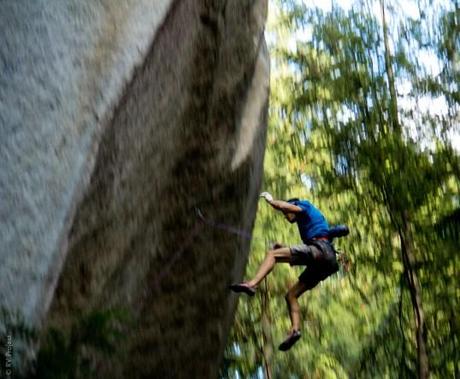 Normally the whipper is bigger. The cam he's falling on is not there on redpoint burns!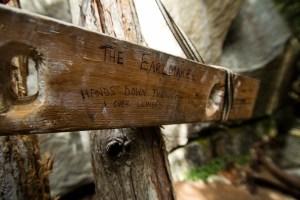 "Self abuse, self produced"
Alex and I jugged up into a tree while Tom and Pete warmed up on The Earlmaker, then top-roped sections of the route to further warm up and dial in the sequences. Sonnie Trotter did the first ascent without the undercling-mono, but most subsequent ascents have utilized both the mono and a wild, bouldery sequence for the final crux. Sonnie laybacked the corner to the right, but Nico Favresse "pioneered" a high heel-hook which opened up some face holds to the left of the crack. (It's Squamish…of course there's an over-the-head heel-hook…)
The route is too painful for more than a couple of tries each day. That first day, Pete made it through to the mono on all three attempts, falling a move higher each time. Tom fell going to the mono three times. Both climbers looked strong, solid, and focused on the early sections of the route. As you'd expect; they literally hadn't touched another climb in Squamish.
I would stay in the tree, aiming a Sony XDCam at the climbers. Alex would kinda-tyrolean over to just above the upper crux and film from there. Amanda was on the ground, getting the wide angle shots. In between attempts, Alex and I hung out in the tree, lamenting our lack of chess board and trying not to drink water so we wouldn't have to pee.
Conditions made quite a difference for climbers and cameras alike. The sun was out on the first two attempts, making the crack feel greasy. It also made the filming tough, because the dappled light coming through the trees creates very high contrast; you either end up with blown out sunny bits or totally dark spots, and finding the balance is not an easy task. At around 2pm, a cold, misty wind blew up the canyon, a harbinger of the rainstorm forecasted for that evening. The temperature dropped and each climber looked much stronger on their last try that day, but the impending rain was worrisome. Would they have enough opportunity to finish the route off before they went home? Or as they put it on the Wide Boyz blog, "Please bring us two good days of conditions Squamish Weather Gods, we are very close now."
It did rain Sunday night and the following day, but not so much as to soak the route. On Tuesday we headed up at 11am, this time just Alex, Tom, Pete, and I. Alex and I took our places in the tree, but today ended up being a short day. Tom was feeling a bit weak, and after his warm up decided not to try the route that day.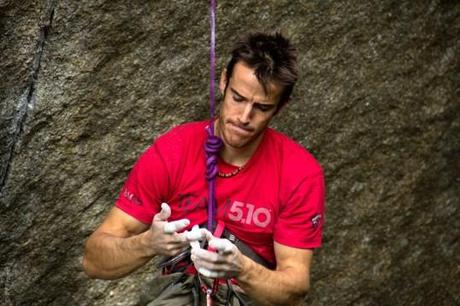 Tom trying to perfect the tape. He went au naturel for the mono on the send go.
Pete, on the other hand, sent the route first go! It would be a delayed celebration. When he cruised his way through the crux, there was no victory whoop, no World-Cup-Fist-Pump, no profane expressions of disbelief. It was clear that it was no send unless they both sent. We shot a few close-ups and hiked back down.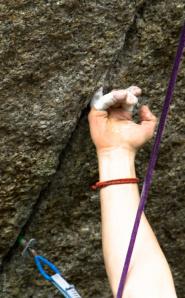 Pete went ring-finger. Ridic.
Wednesday was another day spent in the tree, filming Tom for three more tries. Pete belayed, and also climbed a bit for photographer Rich Wheater, who was on hand to grab some stills.
As their blog put it, "Tom has an issue with one move no one else has ever had an issue with," which is the move to the mono. It was very clear that Tom was beginning to feel the pressure of a short trip, inclement weather, and a route he wasn't sure he was strong enough to do. On top of that, his partner had already done it. He began telling me about various other routes he'd had to go back to again and again and again. I tried to reassure him a bit…"I dunno man, I think if you stick that move you'll go to the top…"
We planned our last filming day for Friday, September 20, as the forecast was looking poor for the rest of their trip. Tom was feeling spritely, lauding the sports-psychology tapes he'd been listening to the night before. Even when the rack was short a cam because Pete had forgotten it in the car, Tom was nonplussed and warmed up casually while Pete sprinted the hour-long hike we'd just completed.
Pete returned, Alex and I took our places above the route, and Tom tied in. Though so much was riding on today, and indeed on this first go (skin management, you see), there seemed to be a relaxed air about the pair of climbers. It was almost as if this tension, this stress was fun for them, as if urgency made them relax. Thankfully, Tom reached the crux, buried his middle digit, and took it to the top.
I think we all were both shocked and expecting it at the same time. In celebration, I broke out the four cans of Budweiser I'd stashed in the bottom of my pack. It was Tom's second drink in 7 years, I think he said, making me either a bad influence or a very good one.
The Professionalism
Tom and Pete will be the first to tell you that they are not very strong. This is obviously "rubbish," as they've now done the hardest offwidth and now one of the hardest finger cracks in the world. I think what they mean is that they are not well-established. There will soon be a second film about them, but they don't do comps, haven't moved to Boulder or Innsbruck or Yosemite. When they listed the Cobra ascentionists on the Earlmaker, they remarked on how silly their names looked next to Honnold, Favresse, Trotter and the rest. "A couple of punters" was a phrase oft employed self-referentially.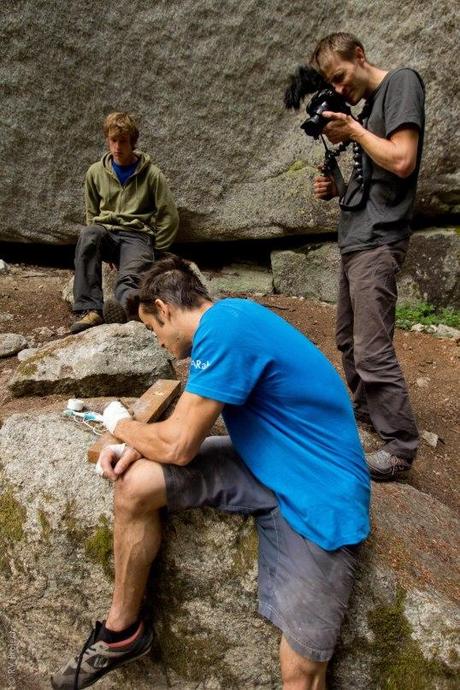 Tom writes history on the back of the Earlmaker
In my view, even if they'd failed to climb the route, they'd be far from punters (well, unless they truly punted). They trained hard and wanted very much to succeed, but the route was far from guaranteed. The weather could've been British, they could've come down with the flu, their niggles could've blown up into injuries. Both have full-time jobs and Tom's got a family, and so they only had three weeks to work the route. With a feature film and many other sponsor-things riding on the trip, they'd put a lot of pressure on themselves. Their willingness to go all-in separates them from most "punters."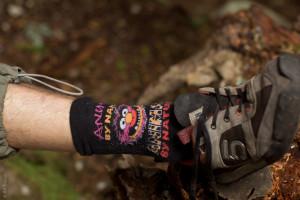 Tom keeps it casual…
Even more impressive than the pressure they put on themselves is the way they responded to it. When Pete made a small mistake and fell midway through the crux, he cursed a little and called himself names, as we all do. When Tom fell for the third time of the day on the same move, he did the same. On our end, it's crucial to get the authentic reaction on camera, yet it also feels a little awkward to stick a camera and a mic in someone's face when they've just given their all and it wasn't good enough. Not once did they give even the slightest hint that they didn't want Alex and I around, that they were irritated by our questions, that they didn't want a camera trained on them while they tried to psyche up.
They didn't come to climb the Cobra Crack. They came to make a great film about climbing the Cobra Crack. When it came time for closeups and secondary angles and photos, there was no hint of impatience, of unwillingness, of fatigue. Only after they had both sent the Cobra did they put any of their chalk on any of the other ten thousand routes in Squamish.
Though they were dead serious on the rock, they were having fun the whole time. Tom and Pete constantly cracked jokes, and would wonder aloud how they'd been so daft as to leave only three weeks for such a hard project. As they worked the route and eventually succeeded, they seemed much more like high school boys who had just managed to throw a big report together at the last minute and get an A on it, instead of punters or posers or ego-driven grade chasers.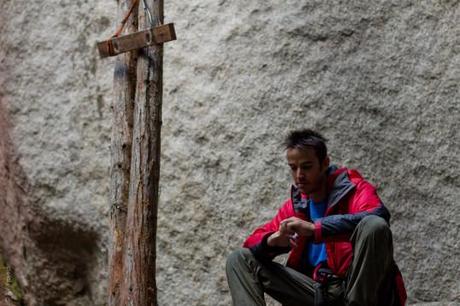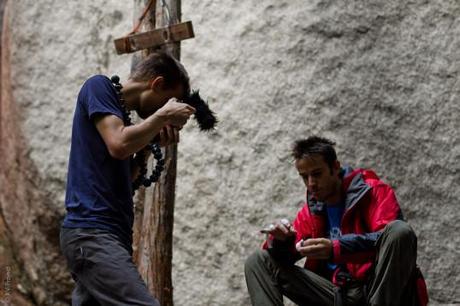 Is this second-degree voyeurism?
The Takeaway
The Wide Boyz are some of my favorite role models in climbing because they emphasize the process. Ticklists are awesome, but it's too easy to read a route name and grade and think, "well, I'll never do that…" What the Wide Boyz show, through their gritty, unglamorous approach to climbing, is that just about anyone can set an audacious goal and attain it. It just takes a lot of hard work. Too often do I hear excuses from fellow climbers based on some inherent shortcoming. "I'll never climb a grade because I lack [flexibility/strength/reach/time]," is a ridiculous statement. A more accurate, acceptable reason might be "I'm not naturally strong or talented enough to do this without a lot of hard work, and I'm either unwilling or unable to put in the effort required." When I hear someone say that they wish they could just walk up 5.13 or V12, I wonder what's keeping them from it.
What I will take away from this experience is that I can definitely try harder, and have fun doing it. I feel as though my climbing has been progressing, but I know that I am holding myself back because I am unwilling to sacrifice occasional beer nights, unwilling to do the stretching and injury prevention that I should be doing, unwilling to train my weaknesses. And the process of improvement doesn't have to suck. Until writing this post, I had forgotten how fun it was to work hard, especially with a good partner. I think back to last summer with Brad Jackson, full of sweaty sessions in the gym, early morning runs, and nearly no partying. These were good times, and I thank the Wide Boyz for reminding me of them.
As a parting shot, I want to let you in on a little secret: If you've been to Squamish and climbed Wormworld Cave, you've bouldered harder than both these slender men. Build yourself a crack machine and start gunning for that 10th ascent!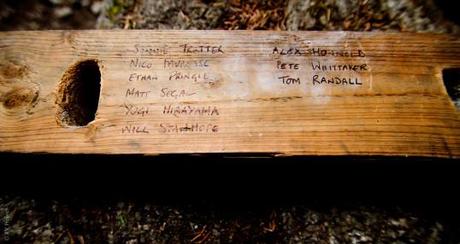 I admit that while I'd like to be on that list, I'm not willing to make the sacrifices necessary.