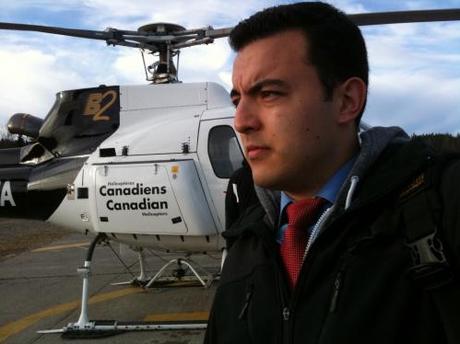 Kai Nagata in Chibougamau. Photo from his blog: kainagata.com
Kai Nagata was in a privileged position for a young journalist.
As CTV's Quebec City Bureau Chief, Kai had a well-paying job, decision-making power, collegial ties, comprehensive benefits, and even retirement options … all at the age of 24.
And then this:
Follow @kainagata

@kainagata
Kai Nagata After careful reflection, I've decided to leave my job at CTV. You can read more at http://www.kainagata.com July 8, 2011 4:22 PM via EchofonReplyRetweetFavorite
I have just finished reading his personal essay "Why I quit my job" — an impassioned manifesto about the state of television news in Canada — and I had to do more than retweet it.
Kai has hit a nerve. At time of writing, his original post has generated over 330 responses and has made the rounds on social networking sites. People have called him inspirational, brave, honest … as well as radical, irresponsible and insane.
I think Kai has made an inspired decision at a critical point in his career, and I thank him for starting this conversation. I'm sure this will not be the last we hear from him.
We would all do well to do our own soul-searching.
Read: Kai Nagata's post "Why I quit my job"