Yep, incoherent English is certainly a side effect of these breathtaking proposal ideas. Friends, the flash mob proposal is so over. We're seeing a return to the more private proposal. The more intimate. But definitely not less elaborate. No, it seems the Pinterest-induced ante-ing up of proposals is here to stay. This is not necessarily a bad thing, but it does put the pressure on the propose-r. Especially that "rule" that there must be a ninja photographer present to snap away without interfering. Listen, that's great and all, but she isn't going to care about the photographer when her dream guy just proposed with a big ol' ring. There are ways to do this with or without a photographer (one idea even includes using pictures you already have!) Luckily I spend hours each day coming up with new and wonderful ideas to propose, and several more hours crying over proposal stories on blogs. I have a lot of free time. So let my wandering mouse be your proposal sherpa, and check out these five proposals that are over the top sweet.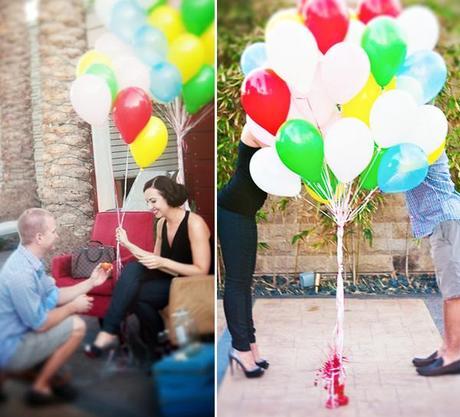 via HWTM
Who doesn't cry during the beginning of Up? You aren't human if you don't. This sweet love story reminded the bride to be of her grandparents' love story. So her fiancé knew it'd be the perfect way to pop the question. He led her to their favorite Las Vegas hotel where he'd set up an elaborate Up themed vignette – complete with Adventure Book, Paradise Falls Fund, and of course balloons. Photographer didn't even try to hide, but it turned into a sweetly styled little shoot.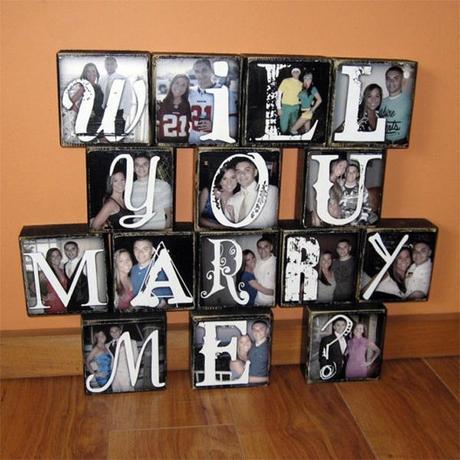 via Etsy
Can't jet off to Vegas with your favorite photog in tow? Wow with a trip down memory lane to all the places you've already been/ This sweet photo block collage is only $7.50 on Etsy, but could be a fun DIY if you're the creative type.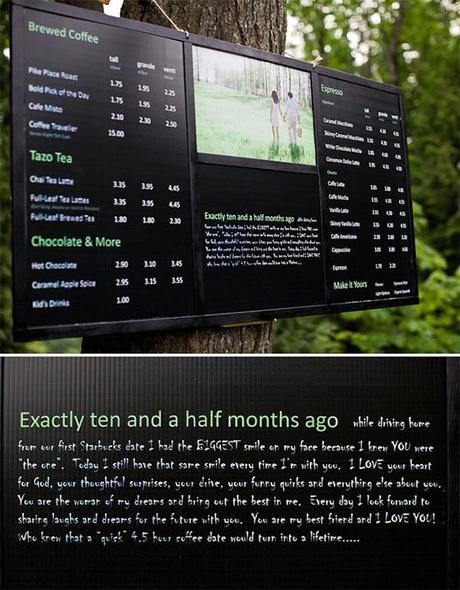 via Green Wedding Shoes
If your intended can't get enough caffeine and celebrates #PSL season instead of Fall, this Starbucks proposal will knock their socks off just like their favorite triple shot. This couple's first date was at a Starbucks, so the groom decided to turn the "propose where your first date was" thing on its head. He set up an elaborate little Starbucks just for two in the middle of the woods. He led his girlfriend there to find their exact order (down to a fruit bar) replicated, along with a custom "menu." Ninja photographers AND videographers.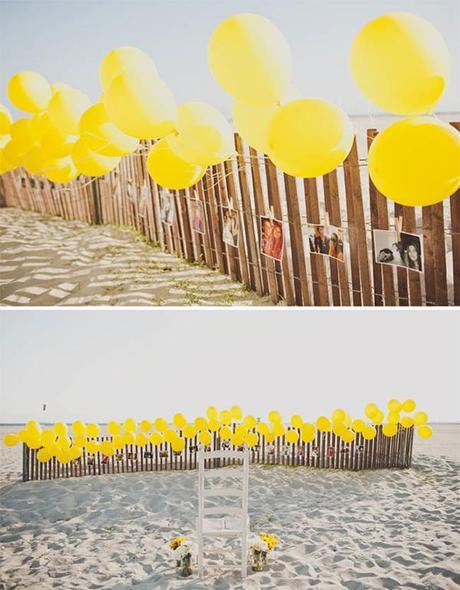 via Green Wedding Shoes
Uh. Maz.ing. How do you pull off a truly original beach proposal? Join a barbershop quartet to help you serenade your sweetheart seaside. The groom hired a pro (who captured this stunning backdrop.) The visual pop of the bright yellow balloons is so happy, so perfect, but pales in comparison to the sweet photos he used on the backdrop. Photos OF photos. So great.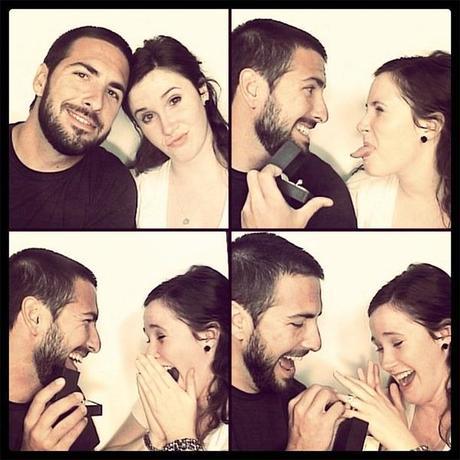 via Team Ropes Course
If a photographer, ninja or otherwise, simply isn't in your proposal budget (totally understandable), turn to a vintage favorite: the photobooth! It's the perfect way to capture the moment, the surprise face, and the impending joy. And it doubles as an AMAZING engagement announcement!