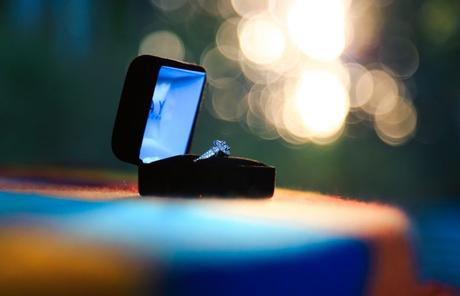 How to Take Care of Your Engagement Ring
Here are three of our top tips for taking care of your engagement ring:
Make sure you have insurance
No matter what the value of your ring is, you want to make sure you have insurance on your ring so that you can properly care for it throughout the years. In the event that your ring gets lost, stolen, or damaged insurance will cover it.
Related: Do I Need Insurance for My Engagement Ring?
Shop around for a good warranty
Aside from a good insurance policy you also want to make sure that you have a good warranty on your engagement ring. Some jewelers offer lifetime warranties where they'll offer you free cleanings for life while some jewelers only offer six months of cleanings after purchase.
Shop around and make sure your jeweler has a good warranty policy so that you can ensure your ring gets the proper maintenance and care it needs to last you a lifetime.
Related: Everything You Need to Know About Getting a Warranty For Your Engagement Ring
Keep up with the maintenance
Keeping your ring clean is a key essential for taking care of your ring. But you also want to make sure you're avoiding incidents that can cause any damage to your ring in the first place. Try to avoid wearing your engagement ring while you're cleaning the house or using any hazardous household products.
Also, consider removing your ring when you go into a swimming pool or any large body of water as this will make sure your rings stay in good condition. Exposure to chemicals, water, and dirt can damage your ring and cause corrosion.
Related: 3 Things You Might Not Know About Buying an Engagement Ring
The Knot Ultimate Wedding Planner & Organizer edition]: Worksheets, Checklists, Etiquette, Calendars, and Answers to Frequently Asked Questions
Buying an engagement ring at Raymond Lee Jewelers
Looking for the perfect engagement ring for your proposal? Raymond Lee Jewelers has you covered. Learn more about shopping for an engagement ring today.
Areas we serve
We are located in southern Florida in the city of Boca Raton. We proudly serve Boca Raton and the surrounding following areas: Palm Beach, Fort Lauderdale, Miami, Broward, and Miami-Dade. Stop by and talk to one of our experts about buying an engagement ring today.
Not sure where to begin when it comes to picking out the perfect engagement ring? Learn more about and in our education center. If you're looking for further information Chat online, or even email one of our customer service advisers at [email protected].