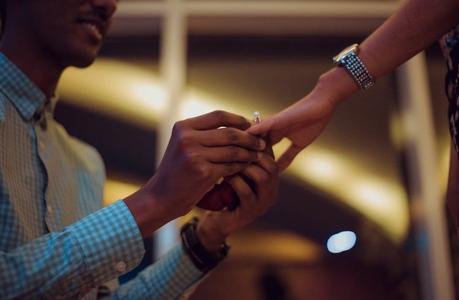 Drop a Hint & Get Your Partner to Propose
No one likes ultimatums. In fact, they are pretty scary. And they can backfire on you. But there are some scenarios where your partner might just need a little push when it comes to proposing. We'll assume that's the case in this scenario - so how do you drop a hint and get your partner to propose?
Before we jump into the good stuff, we thought it would important to talk about honesty. Honesty and communication in a relationship is always the key to success. If you're ready to get engaged and you're not sure if your partner feels the same way consider having an open and honest conversation with your partner about how you feel.
As much as we would love to tell you that there is a magic secret for getting your partner to propose to you, there isn't. Keep this in mind as you read the rest of the article. And also remember that not every relationship is built to work the same way. What works for some relationships may not work for other relationships. Which is why it all goes back to honesty and communication.
Related : 3 Things You Might Not Know About Buying an Engagement Ring
Below are four things you can do to drop a hint and get your partner to propose to you:
Give Them The Green Light
Sometimes one of the reasons your partner hasn't proposed to you yet is because they are fearful that you're not ready for it. Or they fear that you will say no. One of the things you can do to eliminate that fear is to subtly drop hints that you're ready to say yes.
Drop Hints About The Ring You Want
With so many ring options to consider in today's market, it's important to let your partner know what kind of engagement ring you want. Doing this helps ease their fear of whether or not you'll like what they've picked out for you. Remember, you're not the only person that's nervous here. Planning a proposal also comes with a lot of nerves. If you pick out your ring in advance, it's like some of the work is already done for them.
Related : 8 Rules For Shopping For an Expensive Engagement Ring
Don't Rush Things
It's important not to rush a marriage proposal. You don't want your partner to feel like you're forcing them into marriage. This doesn't make for a pleasurable experience for either of you. One of the key principals here is to let it happen on its own timing. Trust that after you've hinted to your partner that you're ready to be engaged, they will propose to you when they are ready to propose to you.
Have An Honest Conversation
There are no tricks involved in having an honest conversation with your partner. It's important to sit down and talk about your future together, what you both want or don't want, etc. When having this conversation, one thing you don't want to do is to try and set a specific date for the wedding. This conversation is not necessarily about the wedding but if there will even be one later down the road. Basically it's to make sure you're both on the same page.
Final Thoughts
What did you think of these proposal hints? Did you find them useful? Do you think they will help you get your partner to propose? Let us know by commenting below.
Need More Help?
Not sure where to begin when it comes to picking out the perfect engagement ring? Learn more about and in our education center. If you're looking for further information Chat online, or even email one of our customer service advisers at [email protected].
Areas We Serve