Why visit Uganda? #VisitUganda
When I tell people in Europe that I live in Uganda, they may have heard of the country, but they are not really sure why. Why live in or visit Uganda?
"Is that guy still there?" People ask me vaguely.
Sometimes they're referring to Joseph Kony… [kicked out of Uganda in 2006,  now in the DRC, his forces much reduced]
Unbelievably, sometimes they're referring to Idi Amin… [exiled in 1979, died 2003].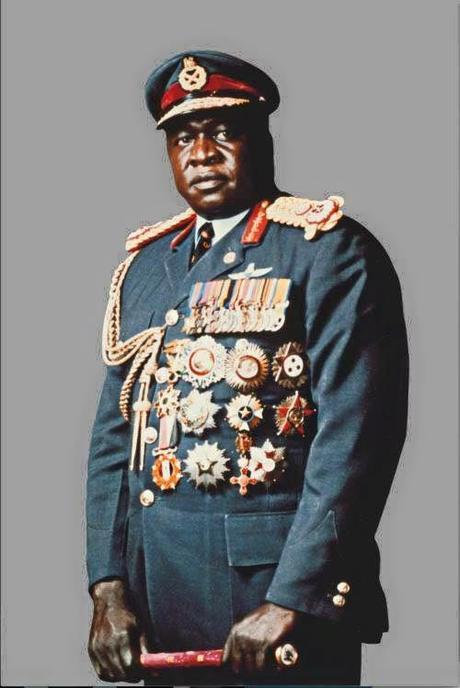 There's a lot more to Uganda than the self-proclaimed "His Excellency, President for Life, Field Marshal Al Hadji Doctor Idi Amin Dada, VC, DSO, MC, Lord of All the Beasts of the Earth and Fishes of the Seas and Conqueror of the British Empire in Africa in General and Uganda in Particular" – and his officially-stated claim of being the uncrowned King of Scotland
Dear World:
Wouldn't it be great if one day those same people were asking after 'that guy' megastar musician Jose Chameleone … ?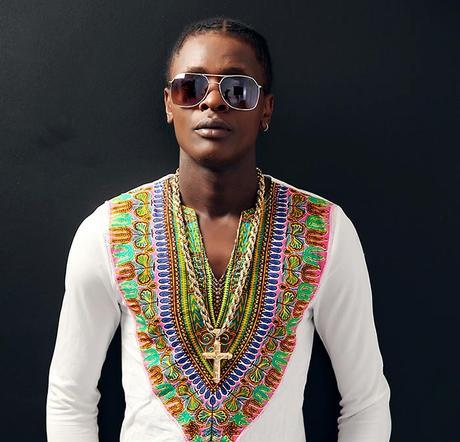 Everyone in Kampala is wearing 'Swahili-style' design tops, shirts & skirts, right now – including singer Dr Jose Chameleone. That guy can reinvent himself!
or even 'that girl' prize-winning Ugandan journalist Nancy Kacungira?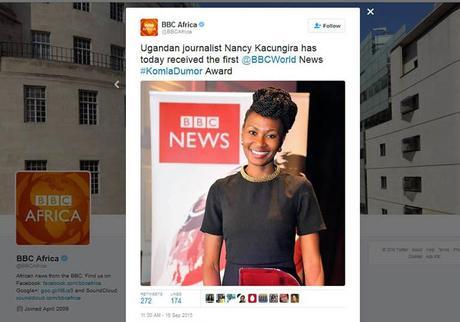 Ugandan journalist Nancy Kacungira wins first BBC World Komla Dumor Award
"What about that war – is that still going on?" Eh banange… [translation: OMG / what?!] Several questions later, I finally get to the bottom of it, they are referring to Rwanda's genocide of 1994.
I think it's safe to say then that outside East Africa, people don't really know much about 21st century Uganda!
So, if general knowledge about the country is so low, how do tourists end up in the Pearl of Africa? (So named by Winston Churchill).
A lot of people arrive here like me, as volunteers or missionaries. To be honest, until I came here, you could write what I knew about Uganda on the back of a postage stamp. I admit it, I was just like anyone else, I knew very little about this fabulous country – and I was somebody who took an active interest in the African continent.
"You will love Uganda. Just go!"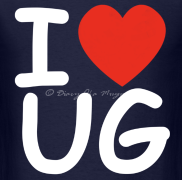 I Love UG. I Love Uganda!
I did very little research before I came to Uganda. I just let the wave of positive feeling carry me to the Equator: "you will love Uganda. Just go!" My volunteer predecessor told me.
I came to Uganda as a VSO volunteer with the Uganda Conservation Foundation, ostensibly for two years. Uganda felt like home the moment the plane door opened at Entebbe International Airport. I have never looked back.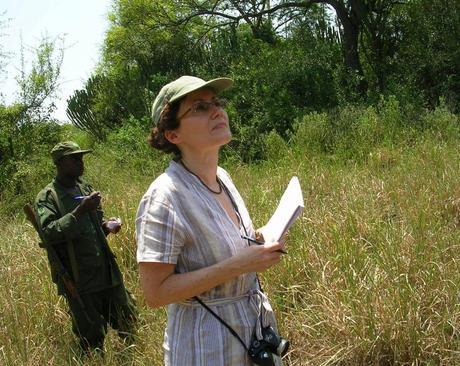 A very serious muzungu taking notes on my first field trip with UCF and Uganda Wildlife Authority ranger, Queen Elizabeth Conservation Area
I didn't come for the nearly-always-sunny weather, but it's a great reason to stay! You take it for granted that you can just wear a T-shirt for almost 365 days of the year.
Most tourists come to Uganda to see the critically endangered mountain gorillas.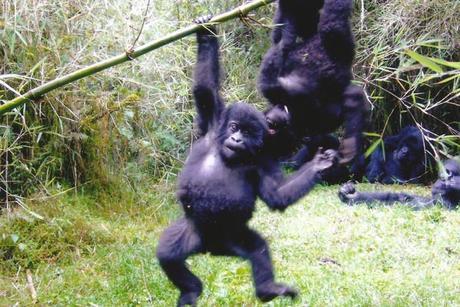 Every trek to see the mountain gorillas is unique – you never know exactly what antics they will be up to! PHOTO Julia Lloyd
While they are here, visitors will usually go on safari too. They may go chimp tracking, or take a boat ride on the River Nile.
Many people will visit more than one national park.
The more adventurous will go grade 5 white water rafting (only Zimbabwe can match Uganda's white water).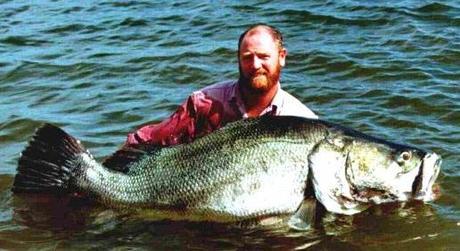 Huge Nile Perch caught by Paul Goldring of Wild Frontiers Uganda (pictured). Paul runs fishing trips on Lake Victoria and at Murchison Falls
The adventurous may fish Lake Victoria or Murchison Falls and attempt to land a 150 kg Nile Perch, or watch (join in?) an African dance display. Volunteering and church projects are popular reasons why people come to Uganda too.
"I've never really noticed birds before," visitors to Uganda tell me.
Well, in the UK, that's not so surprising: we don't have African Grey Parrots, with their bright red underwings, whistling above our heads as they fly towards Lake Victoria morning. In the UK, we are not woken up by the cackle of Hadada Ibis who probe the lawn for worms with their huge curved beaks. We don't have to DUCK when a Marabou Stork with a two meter wingspan swoops low above us as we cross Kampala Road…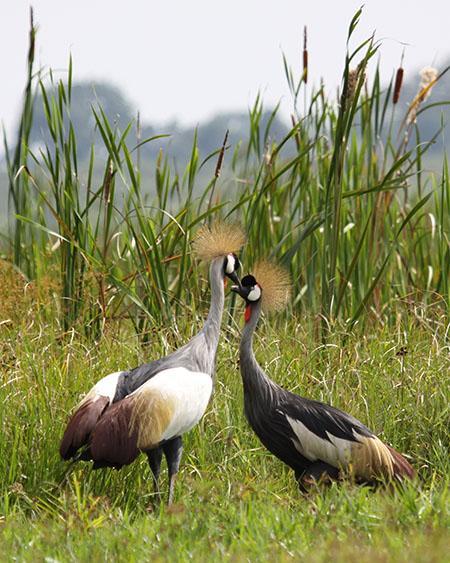 Uganda's striking national emblem: the Grey Crowned Crane or Crested Crane. PHOTO Kaj Ostergaard
Birdwatching – or the modern 'birding' – is not just for oldies or 'twitchers.'
What does the future hold for tourism in Uganda?
Uganda has incredible tourism potential.
The roads are improving and new lodges and activities are opening up everywhere. The most developed tourism is in the national parks, where it's all about wildlife and birds.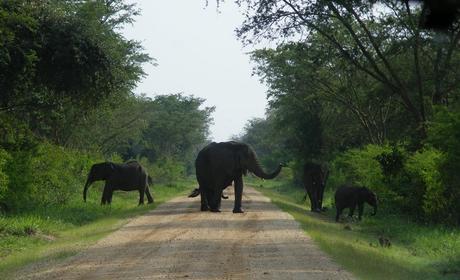 Elephants Maramagambo Forest Queen Elizabeth National Park
Beyond that, Uganda has some of the world's best hiking: Margherita Peak in the Rwenzori Mountains is a challenging seven to ten day hike. The huge caldera of Mount Elgon, that straddles the Kenya border, is another wonderful climb of four or five days.
You can even have a snowball fight on the Equator! Trekking the Rwenzori Mountains, Uganda
In south-west Uganda, you can hike to the top of the Virunga volcanoes and swim in crystal clear lakes. You can walk through the jungle of Bwindi Impenetrable Forest, before or after the obligatory trip to see the mountain gorillas. You are unlikely to bump into many other tourists on these treks.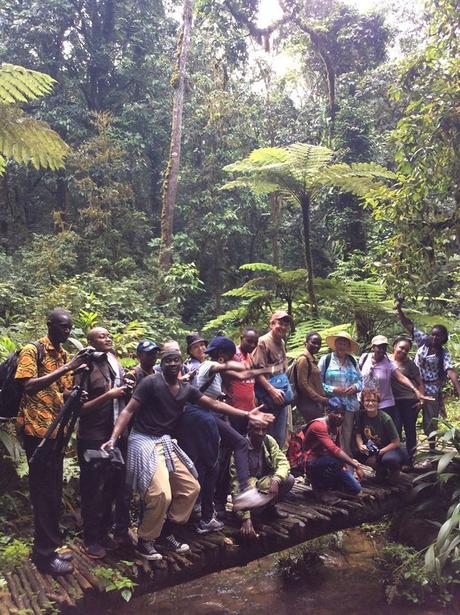 Definitely one of my favorite day adventures in Uganda: hiking through the ancient Bwindi Impenetrable Forest from Buhoma to Nkuringo #gorillahike Bwindi
Uganda is a particularly appealing country for outdoors types. We Brits love a physical challenge – we also love to sip a sundowner or three in the evenings and enjoy some delicious food! You can do all of that in the Pearl.
No-one comes to Uganda and has 'an average time.'
Uganda has something for everyone.
Ugandan welcomes are always unforgettable. The fact everyone speaks English makes traveling in Uganda so much easier too.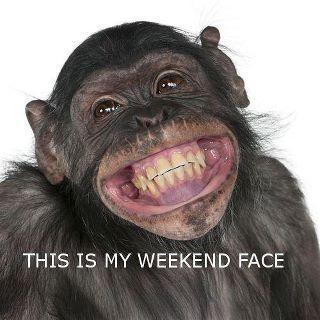 Polite greetings and dazzling smiles always make visitors feel very welcome in Uganda
I believe Uganda's time has yet to come. In the last few years, Uganda has won dozens of tourism and travel awards, from Lonely Planet No. 1 Destination to Visit, to National Geographic, CNN, the African Bird Club and more.  The thing is about Uganda: the country just grabs you – and people like me revisit and tell their friends and family to visit too.
And people like me stay …
A version of this article first appeared in 'Discover Uganda 2016' the Association of Uganda Tour Operators (AUTO) magazine.
Tags:
Birds of East Africa, Bwindi Impenetrable National Park, hiking, Uganda
« The Muzungu stays home – while #UgandaDecides