How to enter Uganda's Travel Writing Competition 2022
Writing has opened many doors for me.
Get writing between now and the end of July and you have a chance to win one of these prizes:
1 million Uganda shillings (always good)
An all-expenses-paid trip to "somewhere in Uganda" (nice!)
Mentoring (arguably the best prize of all, if you're serious about a writing career)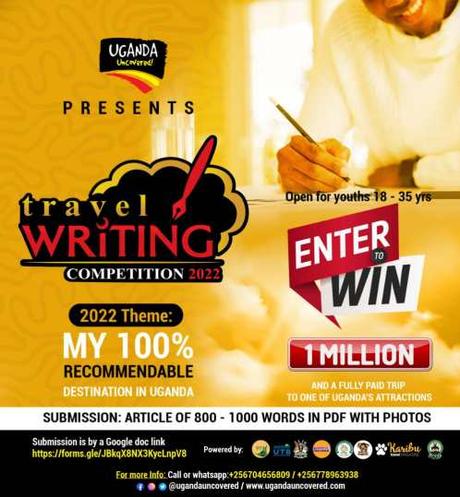 Travel Writing Competition Uganda 2022
The second annual Travel Writing Competition is the initiative of Irene Allen Namisango and the team at Uganda Uncovered. The muzungu will be one of the judges, alongside Julius Luwemba (journalist, writer and photographer) and Dr Jim Ayorekire (Senior Lecturer and Researcher, Makerere University).
Ready to send in your entry to the Travel Writing Competition 2022?
Submit your competition entry here or scroll down to read full info on how to enter.
Here are some of the things I have learned about being a travel writer.
How did I start writing Diary of a Muzungu? And why?
I started Diary of Muzungu in 2008 as I was preparing to quit my 9-to-5 job in London. This blog records the life-changing experience of saying goodbye to the corporate life to volunteer with the Uganda Conservation Foundation. Back then, Diary of a Muzungu was simply a personal diary (adjusting to power cuts, Luganda lessons and shopping in Namuwongo market!)
The discipline of daily writing allowed me to reflect on my radically new life. (You don't have to publish everything of course.) Journaling – or old-fashioned scribbling in a diary – can be therapeutic as well as a chance to develop your own style. Why do I blog? 10 surprisingly for lessons from a self-confessed blogoholic. I look back on my early blogs and can see that regular blogging has improved my writing. My sentences are better structured. I have found my voice.
Writing was already a big part of my life before Uganda. I wrote proposals and reports for a living; the content could be dull, but it was excellent training. (When I felt creative, I would write for the staff newsletter). Fast forward and – hello world – I am a judge in a travel writing competition, a trainer and mentor.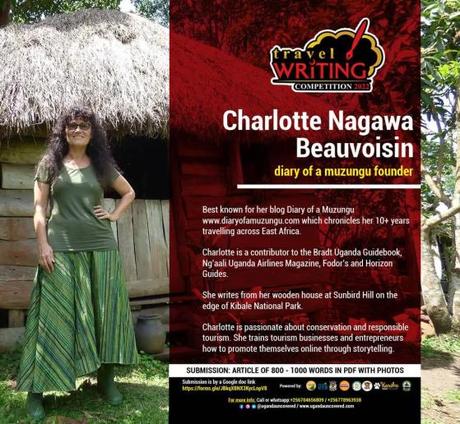 Profile of Charlotte Beauvoisin, Travel Writing Competition Uganda 2022
Tips for being a successful travel writer
You have to put in the hours, consistently. Here is a behind-the-scenes view of a typical work trip Swahili Beach – confessions of a travel blogger.
If you want to be a good travel writer, the writing is far more important than the travelling. Travel can be costly – and you are unlikely to get any trips funded until you have a strong portfolio – so don't ignore what's on your doorstep. Here are my top tips for Ugandans who want to travel.
What are the job opportunities for travel writers in Uganda?
As tourism develops in Uganda, companies are looking for talented writers to help them with their marketing. We need new ideas and perspectives but most of all, we need original, quality work. I get fed up with seeing my content posted on other people's sites (without so much as a courtesy tag). Come on Uganda – try harder!
Unfortunately, Uganda's copy and paste culture undermines quality output. It also weakens the destination brand if we're all just rehashing the same content. When I say that we need original content, I mean that each story should be written from scratch. In addition, we need to look for new topics and alternative ways to structure our communications. Don't just copy somebody else's ideas. Do not start with "I got up in the morning and I had breakfast." It's boring. Find your voice. You might not get it right first time. Practice. Read.
A note for tourism businesses looking for travel content
Employers need to understand that quality writing is a resource-intensive task. It takes time to research a subject, check the facts, write the narrative, edit, review, edit again and proofread. A decent blog post or magazine article involves many revisions. (At some point, I will put an article to one side so that I can go back to it later with fresh eyes). Your travel content could be someone's first impression of Uganda. It must read well and all the facts must be verified.
What is the theme of this year's Travel Writing competition?
"My 100% recommendable destination in Uganda."
Articles should be 800-1000 words about the writer's recommended destination. According to Irene, the aim of the story is "to keep a reader engrossed and desire to visit that particular place." Stories should be "anecdotes from personal travel experiences from road trips to camping experiences, weekend getaways to long safaris."
At the June 21 launch at the Uganda Museum, Basil Ajer, the Director of Tourism at the Ministry of Tourism, Wildlife and Antiquities, urged "Please contestants make use of this [writing] opportunity… write and make the readers accept that Uganda is the Pearl of Africa."
Daniel Irunga pledged total support of the initiative on behalf of the Uganda Tourism Board.
Richard Kawere, head of the Uganda Tourism Association, the industry's apex body also endorsed the event. He has been very supportive of the initiative from its inception. "Content writing is one of the biggest gaps in the tourism industry in Uganda."
Eric Ntalo, Uganda Wildlife Education Centre Public Relations Manager, said "It is important for Ugandans to be involved in promoting conservation and tourism. It is one sustainable way to benefit from all the endowments the country has."
How to enter the Travel Writing Competition 2022
The competition is open to Ugandans of 18–35 years.
The closing date is 11:59 PM July 31, 2022.
Submit your story – with pictures – using this Google Form.
There are no fees to enter the competition.
Articles should be between 800–1000 words.
Participants are advised to read the 2021 winning story and the 5 shortlisted stories on the www.ugandauncovered.com website to guide their creative process.
Got a question about the Travel Writing Competition? Contact +256 704 656809 / 778 963938
The organisers state that "Winners will be invited to take part in a 3-month training with the Uncovered Youth Writers Hub to further hone their writing skills. These trainings will be facilitated by award-winning travel writers and authors. Winning articles will be featured on our websites and social media platforms. In addition to the prizes, free trips and visibility, shortlisted travel writers stand a chance at employment and travel writing gigs with reputable travel agencies on the hunt for writers."
One final word of writing advice from Diary of Muzungu
Start writing now. Don't wait until the last minute. Start jotting some ideas down.
Multi-millionaire author Stephen King advises Write with the door closed, rewrite with the door open (meaning don't worry about your ugly grammar or what anyone else thinks. Just dump those ideas on the page then come back to them later).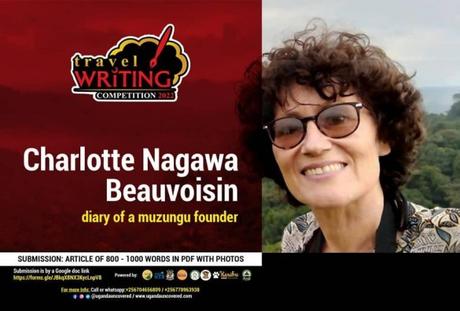 Nagawa advises you not to start your story by telling us what you had for breakfast (unless you're in a treehouse… at the top of Mt Elgon… in the company of a Silverback gorilla – or all of the above!)
Good luck everyone! I look forward to reading your entries – and featuring a few of the winning travel stories on Diary of a Muzungu