Happy Friday friends…I'm sad to say my vacation is almost over, but I'm very excited to introduce you all to my last guest blogger.  My beautiful and funny friend Susie from the Suzlyfe.com has sprinkled some of her awesomeness over here at Life Between the Miles today to talk to you about why runners/exercisers make (or will make) the best parents.  If you haven't checked out Susie's site before, head on over and give her some love, she is awesome!
I'll see you all bright and early on Monday morning when I return to work…eek!

 Have a great weekend!
—————————————————————
Why runners/exercisers make (or will make) the best parents
Good morning, all! My name is Susie, and I blog over at Suzlyfe.com. I absolutely adore Sara, so you know I jumped at the chance to help her out with a guest post so that she and her fam can take a well-deserved break.
One of the attributes I love most about Sara (and many of our common blogger friends) is her amazing dedication to her son, Ashton. I am not yet a mother (though, willing, I will be in a few years), but I have learned through the months of following certain blogs that my years as a runner and fitness-minded person have helped to prepare me for my next great exploit in life, becoming a parent.
Why runners/exercisers make (or will make) the best parents:
We always have food with us. On my first trip with Alex (actually, the trip during which we got engaged), I remember telling him as we set forth on our day of exploration that one of the reasons I knew I would make a good mother was that I NEVER leave the house without a snack ready. I'm always "packing heat," or my version of it. Bars, pretzels, chocolate…. You never know when you might just need something. Especially during marathon training (runger). We understand tired and hungry.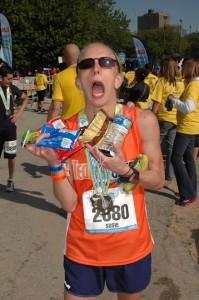 To further that point, our purses and cars are stocked as if they are bomb shelters. In my little bag, I have bandaids, Neosporin, tweezers, lip balm, hand sanitizer, gum, snacks, a hair tie, feminine supplies, a small perfume sample, a piece of candy, flosser, tea bags, and a spoon (no joke). And likely a napkin. A water bottle stays in my purse (or at my office), and I have a mini hair brush. In my car I keep deodorant, wet wipes, plastic silverware, crackers, flip flops, and a jacket (in addition to first aid stuff). We are ready for lock down, I tell you.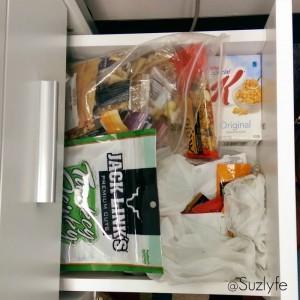 We've honestly seen it all. Cuts, scrapes, bodily fluids. Doesn't phase us. Neither do crazy colors, costumes, or superstitions.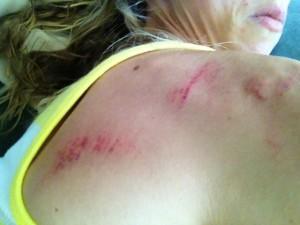 We don't take crap from anyone and we take security, health, and safety very seriously. You bet your britches that child will be in a helmet on a bike and holding my hand across the road.
Getting up early ain't nothing on us. After enough early morning or late night workouts, you realize that the body can adapt to just about anything, if you give it the time.
We respect our bodies. Something that exercise, and specifically training for a goal, has given me is an absolute and utter respect for my body, particularly in consideration of the other obstacles it has to overcome in the process (for those who don't know, I have Crohn's Disease). On those days that I might be feeling less than stellar about myself, I stop, take a deep breath, and think about all the amazing gifts my body has given me, the accomplishments that I never thought I would even want to attempt, and what it continues to do. Often times, moms find themselves wishing that they looked differently, that they still had certain pieces of their "pre-baby" bod back. But think of the amazing accomplishment that this post-baby body has achieved!
Training + goal race = pregnancy + birth in many ways. I'm not saying that a medal = baby, but in both cases, you are shifting your entire approach to your life as you set yourself up for a massive expenditure (race/birth). You find yourself having peak weeks before those last few weeks of rest, you give it all you have, and then you give your body the time to reset after before you start to put it back under pressure.
We know what it is like to give of ourselves entirely to something, even when we are so so tired or sick, or just feel like we have nothing else to give. You put your mind on autopilot and push through. And after, when you look at that child resting or laughing, or you reach that finish and think of that accomplishment, all of that stress and AAAACCCHHHHHH seems worth it. And for every "bad" or tough run, there are a million amazing steps.
Along the same note, we are perceptive enough to know when to push, and when to say "uncle." Sometimes, in order to save yourself for the long haul, you need a rest day. Or, in the other direction, sometimes, you need to just run. Call in reinforcements, and make it happen.
We all have guilt about the time that we spend away from our family. But it is so important to remember that your health and happiness is just as important (in a different way) to the health and happiness of your family. That is not to be selfish, or irresponsible, but find a way to bolster both. Don't feel guilty for needing and insisting upon "me" time—just don't let it be the majority and make it count. The way I think about it, my husband wants me to be happy, and if a 30 minute run while he shoulders a little responsibility is enough to earn it, then he is likely to be in support of that. And vice versa.
You don't have to do it alone, and to be sure, you are never truly alone. Running, children, common passions—they all unite us, no matter how isolated we sometimes feel.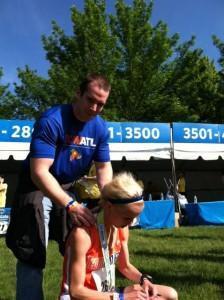 I hope you enjoyed my take on mommyhood and running, and remember, I am not yet a mom, but I hope that my practice balancing my dedications to my family, sport, and work will help me to be a great one.
Find me on Twitter @Suzlyfe Instagram @the_Suzlyfe Facebook Suzlyfe Pinterest @Suzlyfe
—————————————————————
Question of the day
What do you think? How else has a life of fitness empowered you as a parent, spouse, or team member?