According to a list I found called 100 Greatest Operas, Don Giovanni is listed as #3. According to OperaBase tables, it is also the 10th most frequently performed opera in the world.
While I am not doubting these rankings–the opera certainly pops up in my Fave Five–it is a great curiosity to me why so few companies, well-resourced ones at that–can manage a bang-up presentation of the famous dramma giocoso.
If one takes stock in Michael White's 2014 review of  the Royal Opera House's Don Giovanni at Covent Garden, he contends it is within the nature of the production itself that makes it hard to pull off.  It is many things such as comedy, tragedy, sexual assault, murder, masquerade, chase, supernatural interaction. As such, the opera constitutes an "invitation to excess"  for less-disciplined directors.
Confounding the greatest of expectations, the Met's "new" production (2011) was considered lackluster and underdone by a number of critics, including Tommasini. A quick Google show points to numerous companies who didn't hit the mark with arguably Mozart's greatest opera.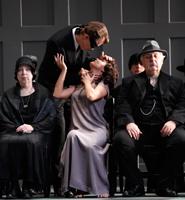 Don Giovanni at New York City Opera, 2009 (Christopher Alden, director)
In my recent review of Opera Phila's Don Giovanni, I mentioned how much I liked Christopher Alden's production at New York City Opera in 2009. The New York Times reviewer said Alden revitalized a masterpiece, and I concur.
What I wouldn't give to see a Don Giovanni like that again! Although, in the interest of full disclosure, during intermission, people complained about the Alden version, that it was too regie. Honestly, I thought it was pure-dead brilliant.
Lacking a truly great performance to attend, in the interim, there are many fine recorded performances to listen to. And I'll keep hoping to see another Don Giovanni for the ages before I shuffle off my mortal coil. Fingers crossed.