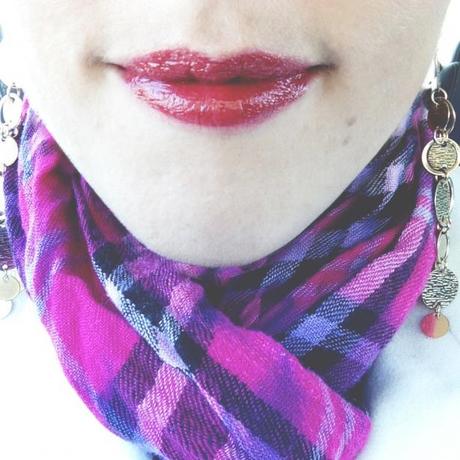 A few years ago I watched a Lifetime movie called "Why I Wore Lipstick To My Mastectomy."  It was about a young woman fighting for her life against breast cancer, and red lipstick gave her the courage to undergo the surgery to take a piece of her womanhood in order to save her life.
Yesterday, as I prepared to go in for my mammogram, all I could think was that I needed red lipstick too.
A week before, I went in for my yearly doctor's visit, and my doctor found a lump and wanted me to get an immediate mammogram and sonogram.  Due to going out of town for a week for work, I wasn't able to get tested until yesterday.  So for a week, I tried not to worry about it and trust that God had me in His hands.  The worry wart I am, I did really good all week keeping it far from my mind, until yesterday as I prepped to go in for the tests.  All of a sudden it hit me…. here I am again… 5 years ago, I had the same scare, which turned out to be negative… but at that time, it was 3 years after my mom survived breast cancer and a mastectomy and 1 year before my dad found out he had lung cancer which would go on to take his life the following year.
All of a sudden, yesterday morning, all the fears rushed in… the reminder of my family history… the stories I hear about other women around my age whose life got taken by cancer…. the struggle between having faith for God's healing and accepting the reality of science… as I stood in the bathroom getting ready, I became crippled in fear and ran back to my bed with my dog in hand, and threw the covers back over us…. I wasn't ready to face the answer to the tests…
Stephen found me back in bed and jumped in with me.  He held me in his arms and said all the perfect loving things I needed to hear from my husband in that moment.  He promised me at the altar that he would always be my protector, and in that moment, he lived up to his vow.
We finally got up, and I tried take 2 of getting ready.  Before heading out the door, I grabbed my bold red lipstick and with it, smeared on courage.
After going through the tests, the radiologist finally eased my worries.  He said I have two suspicious spots but that they were just benign lymph nodes and nothing to worry about.  He said he wants to see me back in 6 months just to make sure nothing is growing or changing, but otherwise, I was good and healthy.
::Big sign of relief::
Even though I tend to work myself up, I'm glad I'm staying on top of it.  I share this today with you because it's Breast Cancer Awareness Month, but also, to encourage you to stay on top of things yourself.  I've seen cancer creep up too many times in the lives of loved ones, and I hope my story can help motivate you to get your regular check up too.  When my mom had breast cancer, I tried at age 24 to get a mammogram and no one would listen to me.  It wasn't until age 27 when my doctor found a lump and they finally let me get one.  And now at age 31, the health world still thinks I'm too young, but you just have to push through and fight for your right to be screened.  It's not just older ladies that get breast cancer, young women get it all the time too… you are never too young to be proactive in looking out for your health.
Fight like a girl… and win.

My oh so sexy mammogram gown.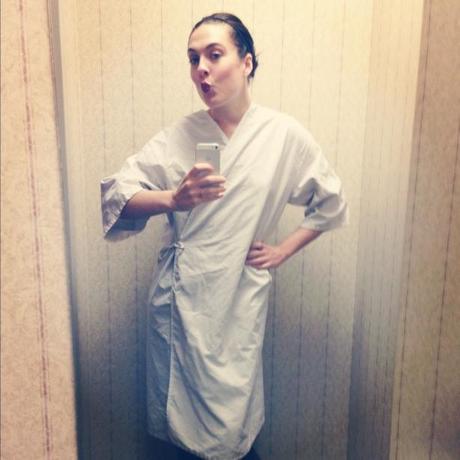 The squishy machine.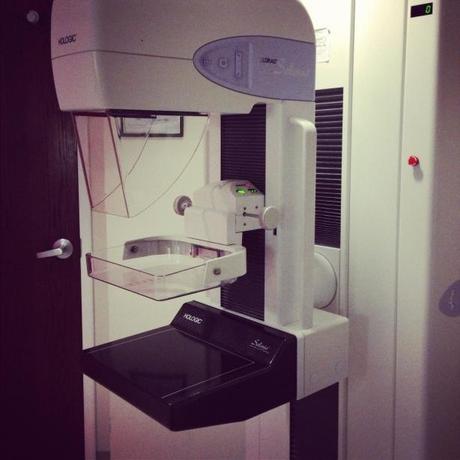 A t-shirt I loved in the lobby.