So we may not have had the finest of British summers so far, but it hasn't stopped my friends and colleagues from turning gradually more golden and bronzed.  Whether it has been kick-started by a week in Spain or a trusty bottle of fake tan, all these lovely, sun-kissed bodies are everywhere, making me stick out like a sore thumb.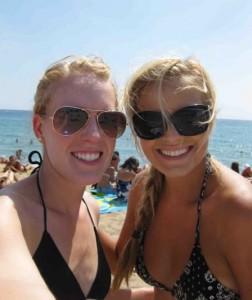 I used to really hate my pallid complexion, but now I am proud to be different.
Believe me, I have tried to fit in and get a golden glow.  But sunshine doesn't agree with me.  At best, I end up with a pink glow.  But my complexion puts me in real danger of burning, so I don't even attempt a tan anymore.  If I try to fake it, I just end up looking 'tangoed'.
The irony is, until relatively recently, paleness was an indicator of class.  The ideal of female loveliness was to be sun-shielded, not sun-scorched – it was only with the advent of mass travel in the seventies, and a new era of sexy poster girls such as Farrah Fawcett, that the pendulum swung.
But now I do wonder if times are a-changing again.  Pale beauty has enjoyed a mini-resurgence, thanks to the likes of the gorgeous Dita von Teese who exudes a timeless glamour.  Sophie Ellis-Bextor and supermodel Lily Cole are other great role models for us pasty types, with their porcelain complexions and natural beauty shining through.
Then there is the undeniable fact that pale is healthier.  We all know about the dangers of sun exposure, although it remains socially acceptable in a way that other 'silent killers' such as smoking, drinking and unhealthy eating aren't.  I suspect it is only a matter of time before the trend reverses and pale is no longer considered 'interesting', but the norm.