I haven't been to South Korea, land of kimchi and bulgogi. But with the "Korean invasion" here in the Philippines, where in almost every city one would find Koreans, the influence is just so strong. Say Korea, and I'd think of the following: 2NE1, invasion, soju, K-Pop, Koreanovelas, we-must-learn-English-so-we-come-to-the-Philippines, and now, BonChon Chicken.
BonChon Chicken started in 2002 in Pusan, South Korea. They employ a twice frying technique, which gets rid of the fat and gives the skin a paper crisp. Each fresh, never-frozen chicken part is hand brushed lightly with their signature soy garlic sauce or its spicy counterpart. The best part is, their chicken isn't greasy and has no trans fat. Read more…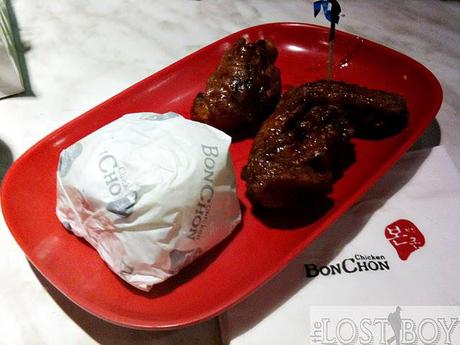 When BonChon Chicken opened its first Philippine branch in Makati's Ayala Triangle Gardens late last year, their place was always filled. I didn't mind it too much then despite the hype until I've actually heard friends rave about their chicken wings. I wasn't too eager to try it though, since I assumed that a meal would cost me a wing and a leg (pun intended). After all, Scott Raab of Esquire wrote, "It isn't merely today's best chicken; it's perfect, the best fried chicken I've ever had."
Yet one day, I met with my best friend LaRue at Greenbelt to finally taste Bonchon's wings. I was surprised to find out that their chicken wings only cost 135php for three, including rice and a drink already. LaRue ordered their soy garlic wings, whereas I boldly got the spicy counterpart. We also got a fish taco for 75php, which is likewise available in both sauces.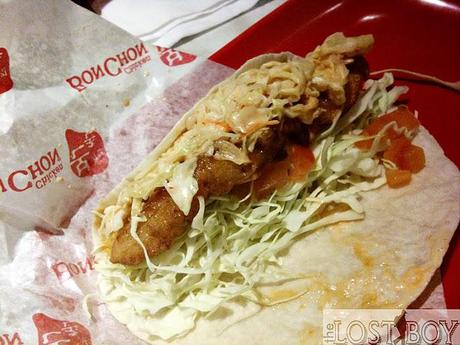 We were so hungry that we gnawed through the wings instantly as they arrived. At first, I thought that my spicy wings had the right amount of heat, until I was on my second wing when I can already feel the heat fully kicking in. My large cup of Coke Zero wasn't enough. I did however enjoy the crisp skin and the meat of the wings. I thought the wings were quite tasty when I'm more into dark meat portions. The fish taco, meanwhile, also had a good crisp like the chicken, and its accompanying ingredients were refreshing. It's a worth a try.
Verdict: On my subsequent visits, I've always ordered their soy garlic wings. Mild and really tasty, these BonChon wings are becoming my standard comfort food. I get the box of six wings for only 185php. You should get some for yourself too, as I highly recommend them.
BONCHON CHICKEN
Branches: Ayala Triangle Gardens; Greenbelt 1; SM Megamall; Libis; Robinsons Galleria (soon)
Hours: varies by branch
Contact: http://bonchon.com.ph/
Prices: three wings, rice, and a softdrink for 135php
Notes: Major credit cards and Philippine-issued ATM cards are accepted. Serves alcohol.
The menu is available here: (Page 1)