Lingerie retailers are reporting a big rise in sales of corsets, and it's all thanks to style icons, burlesque and Mad Men!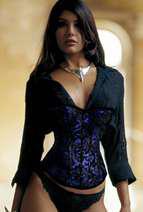 There has been a trend growing for quite some time to wear underwear as outerwear.  Sassy celebrities such as Jessie J,
Lady Gaga
and Rihanna are all huge fans of this style and it seems that more and more of us are getting into the corset groove.
The boom can also be attributed to the popularity of the smash hit TV series "Mad Men", which is set in the fifties and openly celebrates the hourglass figure, most notably in the shape of the voluptuous Christina Hendricks.
Burlesque is continuing to influence fashion choices as well, with more and more women taking an interest in burlesque dancing and vying for the style and curves of Dita von Teese and her contemporaries.
And as unlikely as it may sound, many experts also believe the recession could be a factor.  One-pieces such as corsets, basques and babydolls can work out cheaper than buying a knickers and bra set – and with the cost of going out a stretch for many hard-up couples, women up and down the country are snapping up corsets to look fabulous for their intimate nights in!
Tempestra stocks corsets from leading luxury brands, including Vollers, EdenCoeur and Esbelt.  The model in the photo wears a Vollers balconette corset in satin and lace.