Following the success of Opera Philadelphia's Turandot–a co-production with several other renowned companies– I thought it would be valuable to reach out to that company to better understand the co-production and why it has become a mainstay of their season.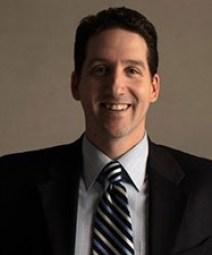 David Levy, Opera Philadelphia
Opera Phila's Vice President of Communications Frank Luzi confirmed that much of what is offered these days at Opera Philadelphia is co-produced. Some shows like Turandot have gone to many cities over many years and other new works like Cold Mountain are co-produced with a few key cities in mind.
Luzi suggested I speak with David Levy, Senior Vice President of Artistic Operations at Opera Philadelphia. Levy oversees the production, music and artistic administration, and operations for the Opera. He has put together numerous co-producing deals during his career. Coincidentally, he was hired the same year David Devan was hired as General Director.
As a bit of background, Levy came to Opera Philadelphia as Director of Production in 2011, following five years in the same position with Kentucky Opera. From 2000 to 2006 he worked at Washington National Opera as Artistic Administration Manager. He received his M.F.A. in Stage Lighting Design from UCLA in 2000. Between 1994 and 1997 he held various stage management, production and design positions with Washington National Opera and his hometown company Opera Theatre of Saint Louis. He received his B.A. in Theater Arts from Duke University in 1994.
Welcome to Operatoonity, Mr. Levy. 
The number of co-productions at Opera Phila has increased in the several years. Was this a strategic decision to move in this direction?
The company wanted to strategically partner with other companies and look for other partnerships. Co-productions are partnerships. Opera Phila wanted to contribute new works and create new ways to present current work.
Can you contrast a co-production with a rental (or bus and truck show) for Operatoonity readers?
There are a number of ways companies can produce opera. We can survey the landscape of productions and siFor instance, cCmply rent a production to then populate with our orchestra, chorus, and regional director. Opera Phila is doing less and less of that. We seek to enter into a consortium with another company, to be in from the ground floor.There is s huge marketplace for presenters. Broadway in Philly is a
presenter
. Opera Phila is a
producing organization
. We help develop the production in part if not in whole. We've gravitated towards new works that have our imprint. We want to trust artists to do their work. There is never an instance when we don't have input on what goes on our stage. If we are committed to a title, we'll do it ourselves.
How do you select the titles that are ideal for new productions?
Dark Sisters
was a co-commission with Gotham Chamber Opera, with whom we shared resources
.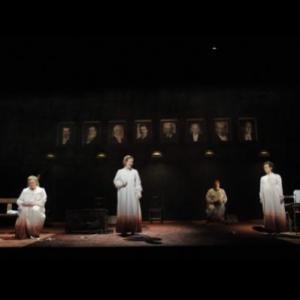 Dark Sisters, a new chamber opera co-production by Opera Phila and Gotham Chamber Opera
Cold Mountain
was a co-commission with Sante Fe Opera. By using commissioning partners, companies are able to create new works and get the music on the page.  We are continuing to create new works and search for partners.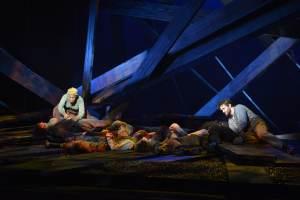 Opera Phila's five-star production of "Cold Mountain"
Turandot is not a new work, but it is not often produced compared to other Puccini operas. Could you outline the process for Turandot becoming a co-production?
Turandot is a unique animal. David Devan goes back a long time with an idea to champion 
Turandot
here. Some company has to do it first–initiate, build the show, manage the production. It was pitched in 2008 and then scrapped in 2008.  Eventually, it came around full circle, with Opera Philadelphia connecting with Minnesota Opera [and others]. Within that framework, this production had our imprint: our orchestra, our chorus, our casting, our people, and our conductor.
Have you seen the results that you anticipated from these increased co-productions measured by ticket sales, critical acclaim, enhanced artistic value, etc.?  
We are seeing growth in a lot of areas.
Turandot
set a record in terms of single ticket sales revenue. It played to full houses. We learn a lot doing co-productions. They give creative teams a chance to revisit or bring nuance to the show, perhaps bring more to it the second time.
How do you find other companies who wish to co-produce? Perhaps this is easier than what one thinks in the digital age? Or is more contacts and networking?
This is more about good old fashioned networking. We'll travel to see something or meet the leadership team and talk about future projects. Opera American hosts an annual conference that serves our industry and is a good connection for networking. All the partners for Turandot came in through good old fashioned networking. As partners, we decided who the directing and design team should be as well as budgets and timelines for production.
What does the future hold for your company and co-productions?
We hope to find more partners because the time is now. We love to reach out to artists to say let's figure out a time and place for you to come here. We have basic artistic tenants–to energize artists and audiences, in that order. Christine Goerke wanted to sing Turandot. Missy Mazzoli (
Breaking the Waves
) wanted to compose.
And because this is an Operatoonity interview, Mr. Levy, how about some lightning round questions:Favorite opera:
Salome
in St. Louis
Favorite composer:
Strauss
Favorite Italian composter:
Puccini
Favorite Puccini opera:
Act III of
La bohème
; last act of
Otello
Favorite aria:
Trio from
Der Rosenkavalier
* * *