By Harrison Page. Follow him on Twitter @mrharrisonpage
25-year-old signs for undisclosed fee.
Adam 'delighted' to be at Anfield.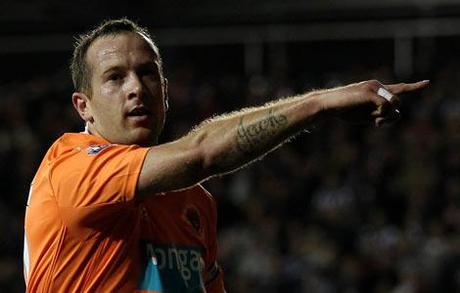 New Liverpool signing Charlie Adam will be hoping to
make an impact at Anfield.
Scottish international midfielder Charlie Adam has finally completed his long awaited move to Liverpool for an undisclosed fee, but why has a club with aspirations of European qualification even considered to sign such a mediocre player?
The former Blackpool captain has certainly played an instrumental role in the meteoric rise of the Seasiders' notoriety over the past two seasons, scoring 16 goals on the way to Championship Play-Off Final success in 2010 and 12 goals in the Tangerines' subsequent debut season in the Premier League. This success however conjures up the notion of 'a big fish in a small pond' and in my opinion, Adam will struggle to have the same impact in the ocean of class he'll face at Anfield.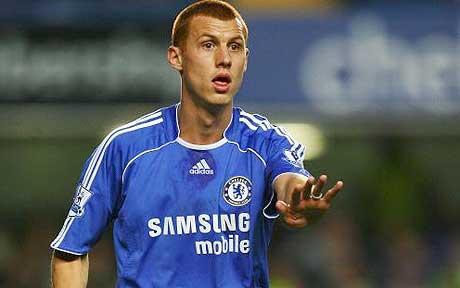 Harrison Page believes Charlie Adam's move to Liverpool
will mirror that of Steve Sidwell's unimpressive stint at Chelsea.
It's not too difficult to stand tall amongst the likes of Elliot Grandin, Keith Southern and Gary Taylor-Fletcher, but when the former Rangers midfielder will have to exert his presence over Portuguese international Raul Meireles, £20million man Jordan Henderson and a certain Mr Gerrard, one finds it difficult for him to be able to do so.
Liverpool's acquisition of Charlie Adam reminds me of Steve Sidwell signing for Chelsea after a similarly two productive seasons with, no disrespect, a Premier League minnow. On arriving at Stamford Bridge, Sidwell claimed he was not simply there to make up the numbers and believed that his own game would improve through training with experienced internationals such as Frank Lampard and Michael Essien. However, regardless of whether the former England U21 international's footballing aptitude improved during his time in West London or not, the fact that he was no longer 'a big fish in a small pond' demonstrated that he was simply not good enough for a club of Chelsea's stature and consequently made just 15 fleeting appearances.
Charlie Adam scored 12 goals in the Premier League last season, an impressive figure for a midfielder, until you mention that eight of those were in fact penalties. Yes, he provided a number of assists, but many of those were from corners and I'm sure that Kenny Dalglish hasn't signed him for his set pieces alone. So what does the 25-year-old actually offer a club like Liverpool? Well, in my mind, very little.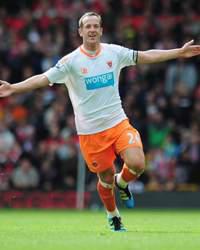 Adam scored 12 goals in the
Premier League last season, but
8 were in fact penalties.
At Blackpool Adam was the talisman, the driving force behind every attacking move, the captain, a leader. At Liverpool however, Adam will be cast aside in the shadows by the players around him. His whole game is based around his influence over less technically gifted players and being the spearhead for a side like Blackpool to galvanise around. At Liverpool however, Adam's unique selling point simply is not required, for the Anfield club already have their talismen, in the form of Jamie Carragher, Steven Gerrard and Luis Suarez.
Charlie Adam is certainly a talented individual, but what he thrives on is being that 'big fish in a small pond' and it was this primary attribute of influence that set him apart at Blackpool. A player of Adam's mold needs a team to be built around him in order for him to flourish and at Liverpool, that simply is not going to happen. Of course he deserves the opportunity of playing in the Premier League again this season after his exploits over the past 12 months, but unfortunately he is not the calibre of player Kenny Dalglish should be looking for to get Liverpool back into Europe where they undoubtedly belong. Adam can undoubtedly be a talisman for sides in mid-table, but at the top-end of the league, I simply can't see it.
What are your thoughts on Charlie Adam moving to Liverpool? Do you think he will prove Harrison Page wrong and be a success at Anfield or will he simply be Steve Sidwell Mark II? Share your views and opinions in the comments box below.