By Harrison Page @mrharrisonpage
Villas-Boas handed three-year contract.
Ex-Porto man dubbed the 'new Mourinho'.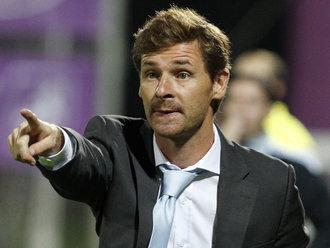 Chelsea fans will be hoping that new manager Andre
Villas-Boas will be able to point their club to success.
Former Porto boss Andre Villas-Boas has been appointed as the new Chelsea manager, signing a three-year deal with the Premier League club.
Speculation about the 33 year-olds appointment has been rife over the last few weeks and it is no surprise that the man labelled as the 'new Jose Mourinho' has been chosen by Chelsea owner Roman Abramovich to lead the West London club next season.
Villas-Boas' credentials are certainly there for all to see. The man from Portugal won the treble with his Porto side last season – the Portuguese League, Cup and UEFA Europa League – recording the highest number of points attained by a team in a 30-game Portuguese league season and becoming the youngest manager ever to win a European competition in the process. The previous season also saw Villas-Boas guide bottom-side Academia de Coimbra to a respectable 11
th
position after his appointment in late October 2009.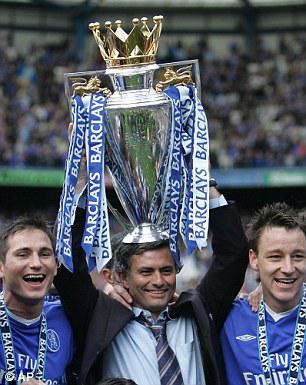 Villas-Boas has been described as the new
Jose Mourinho, who won the Premier League
in his first season at Stamford Bridge.
His achievements in Portugal almost mirror that of former Chelsea boss Jose Mourinho and it is no wonder that comparisons are already being made with his Portuguese compatriot. Similarly to Mourinho, Villas-Boas spent time with ex-Barcelona and Porto manager Sir Bobby Robson, and it was this tutelage which laid the foundations for his achievements so far. The Mourinho comparisons do not end there however, as Villas-Boas has worked under the current Real Madrid boss at Porto, Chelsea and Inter Milan, earning great respect and adulation for the depth and detail of his opposition reports and preparation.
At the tender age of just 33 Villas-Boas' achievements really are quite something and it is this, along with his uncanny coaching upbringing to Mourinho, which has led him to be appointed as the new manager of Chelsea. The greatest success in the Abramovich era was under the tenure of Jose Mourinho and undoubtedly he will be expected to produce results on par with the self-proclaimed 'Special One'. Former Chelsea boss Avram Grant has already come out to warn Villas-Boas of the pressures of the Stamford Bridge hot-seat, stating the Chelsea owner wants success 'as quick as you can'.
The similarities between Mourinho and Villas-Boas are too similar to ignore, and the former Porto boss – who received his UEFA C coaching licence at just 17 years of age – will have to become used to the constant comparisons, especially as he will now be working under the spotlight of the British media. In terms of playing style however, the two are quite different. Villas-Boas likes his team to be more fluid and collective in terms of attack, with his focus much more on the team than the individual, or, in the case of Mourinho, himself. In the press conference following Porto's Europa League win last season, Villas-Boas praised Barcelona manager Pep Guardiola for his team's style of play and almost apologised for winning the final in such a scrappy fashion. This is what separates the two men. Where Mourinho will do anything to win, Villas-Boas wants to win beautifully.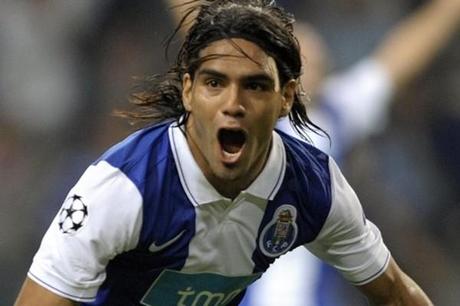 Porto striker Falcao is linked with a move to West London
in order to be reunited with former manager Villas-Boas
Talk to Arsene Wenger and he will be able to tell you just how difficult that is in the Premier League. Although Barcelona make it look easy in Spain and in the Champions League, they are a team up there with the very greatest in the history of the beautiful game. Arsenal, and Chelsea, are not. The likes of Porto stars Joao Moutinho and Falcao are highly adept to such a style of football, but when such a question is placed upon Chelsea's John Obi Mikel, Yossi Benayoun and the aging Frank Lampard and Florent Malouda, their ability to play Villas-Boas' vision of a Barcelona-esque manner is certainly up for debate. Undoubtedly the new Chelsea boss will be given access to Mr Abramovich's bulging chequebook, and in my view he will certainly need to use it in order to bring in some much-needed creativity, flair and pace in order for his side to perform in his preferred way.
The credentials of Andre Villas-Boas are there for everyone to witness and admire, yet the comparisons with Mourinho are somewhat short in regards to the achievements of 'The Special One'. Villas-Boas will be given every opportunity to make a success of himself at Chelsea, with his Porto pedigree demonstrating that he can guide his new club to some much craved silverware. The newest member of the Stamford Bridge managerial merry-go-round will have to do so quickly though if he is to live up to his 'new Mourinho' billing, with 'The Special One' winning the Premier League in only his first season as Chelsea manager.

What are your thoughts on the appointment of Andre Villas-Boas as the new Chelsea manager? Do you think he will be a success at Stamford Bridge and what players do you think he will sign with Roman Abramovich's cash? Share your views and opinions in the comments box below.