In the third 
instalment of our series of articles reviewing the past season's fortunes of teams from across the footballing world, Guest Writer Bradley Elvin gives thoughts on his team's performance in 2010/11.
By Bradley Elvin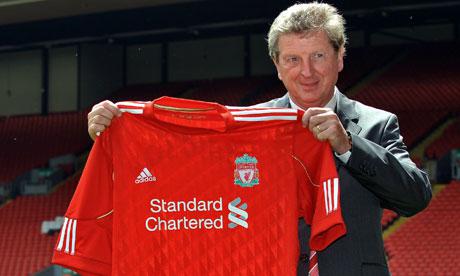 Roy Hodgson's time as Liverpool manager was certainly not uneventful.
What was certainly an eventful season for The Reds if not a successful one, started off with boardroom turmoil.
With former co-owners George Gillett and Tom Hicks finally looking to sell after much demand from fans, after false promises of a new stadium, they certainly weren't making it easy for new investors by holding out for every penny. Matters had to be settled in court with Liverpool appointing emergency chairman Martin Broughton (British Airways) and chief executive Christian Purslow to help settle matters with the current owners. Liverpool were in need of strikers so they brought in Martin Broughton as he used to have thousands of them. Yes, the club I love was certainly the brunt of all the football related jokes at the start of the season. Liverpool brought in vastly experienced Coach Roy Hodgson to help steady the ship rather than appoint a more exuberant manager the fans would have wanted.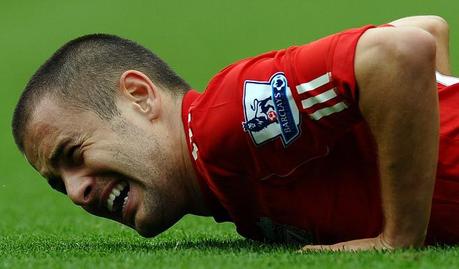 Hodgson's free transfer acquisition of Joe Cole was seen
as the answer  to Liverpool's lack of creativity, but the
former England international failed to make an impact. 
However turmoil off the pitch was reflected by poor performances on it. Liverpool under Hodgson made their worst start to a league season for nearly half a century. Poor signings like Christian Poulsen and Paul Konchesky certainly did not look good for Hodgson. He did however get out of favour Chelsea playmaker Joe Cole on a free transfer; however he never really got going in a Liverpool shirt and constant injuries made it hard for Cole to settle into the side. Also deadline day signing of Porto's Raul Meireles proved to be a great acquisition, perhaps the only saving grace of a poor stint at Liverpool for Hodgson. 
There was more bad news when new signing Cole was sent off on his debut against Arsenal in a heated 1-1 draw which saw the in-form David N'Gog find the net from an acute angle, however a rare mistake from 'keeper Pepe Reina handed Arsenal a point. Hodgson, apart from in the Europa League against lesser opposition, couldn't buy a win. More poor performances and results followed soon after, losing at home to the likes of Wolves, Blackpool and even League One side Northampton Town in the Carling Cup were starting to turn the usually faithful Liverpool support against Hodgson.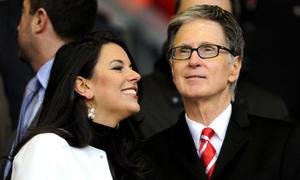 New Liverpool owner John Henry aimed to bring some
much needed financial stability to the club. 
A good 2-0 home win against champions Chelsea did help calm the nerves of relegation worries, with a usually uninterested Fernando Torres turning up and bagging a brilliant brace. However Liverpool were unable to really build on that and talks of Torres' exit were soon brought up again. When boardroom court matters were finally resolved and Martin Broughton managed to get rid of cowboys Hicks and Gillett, Liverpool football club were delighted to see the back of Americans. With much interest and speculation on whom the new investors would be, Liverpool believed they finally brought the right people to the club with the NESV sports group run by John Henry (yes, more Americans) and again Liverpool were the brunt of jokes by this time.
Of course fans were somewhat and understandably edgy at more Americans taking over, but Henry's work with Baseball outfit the Boston Red Sox speaks for itself, so at least Liverpool were getting an American with experience of transforming a struggling sports team and bringing them back to winning ways.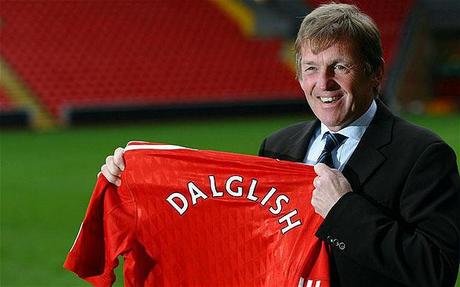 Kenny Dalglish was appointed to turn the tide on
Liverpool's poor first half of the season under Hodgson.
Of course with new owners, speculation of Hodgson's early Anfield exit grew bigger and with the new owners' first game at Anfield being a Merseyside derby against bitter rivals Everton it really was do or die time for Hodgson's reds from the fans and owners points of view. Having witnessed a lacklustre 2-0 home defeat to their bitter rivals, Liverpool decided enough was enough and parted company with Roy Hodgson after just 6 months in charge. Liverpool fans had for months been singing from the terraces for the legendary Kenny Dalglish to return as manager and throughout Hodgson's time at Liverpool Kenny never ruled himself out of taking over. So when all the manager and boardroom fiascos had settled there really was only one candidate to takeover a desperate Liverpool. Yes King Kenny was back!
Make sure to check back tomorrow for the second and final part of Bradley Elvin's Liverpool Season Review.