Continuing our new series of articles reviewing the past season's fortunes of teams from across the footballing world, here's the second and final part of Guest Writer Tom Galley's Season Review on his team Newcastle United.
By Tom Galley @tgalley91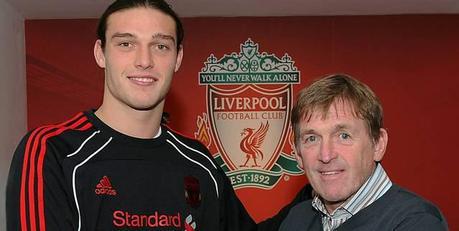 Andy Carroll's January transfer to Liverpool did not result in the predicted
negative repercussions on Newcastle's aim of Premier League survival.
J
anuary marked
a difficult month for the club. A brilliant start
saw the Magpies win compellingly against West Ham 5-0, a game in which Leon Best managed to become another Newcastle player to score a hat-trick in the league this season. However, a cup upset at the hands of Stevenage in the FA Cup 3rd round and conceding stoppage time equalisers when in leading positions against Sunderland and Tottenham, left a sour taste in the mouths of players and fans alike.
However, it was the end of the month and closing of the transfer window that rocked the club most. With Chelsea pursuing their chase for Liverpool frontman Fernando Torres, Liverpool were looking for a replacement and they had shortlisted Andy Carroll to be their man and were adamant in their chase for the England prospect. So much so, that after receiving £50 million from Chelsea for Torres, they were willing to pay £35 million for Carroll, an offer that just seemed too good for the board at Newcastle to turn down. So with all this movement going on so late in the transfer window, this didn't leave any time for Newcastle to find a replacement for their number 9 striker, leaving them to finish the season with their current

playing squad.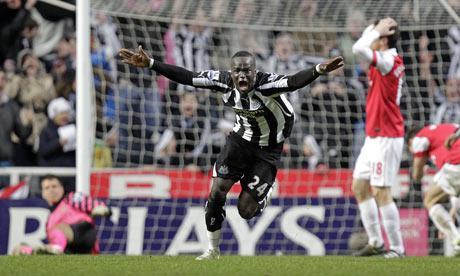 Cheik Tiote celebrates his stunning equaliser
in Newcastle's 4-4 draw with Arsenal.
A Newcastle United squad without Andy Carroll seemed like they were going to lack goals and confidence up front to try and successfully survive
in
their first season back in the Premier League. Yet, when Arsenal visited St James Park in February 2011, it was a match that would go down in the history books. Arsenal had taken an early lead in which they were 3-0 up within 10 minutes,
a lead
which became 4-0 by half time. However, the turning point of the match happened about 15 minutes into the second half, when Arsenal midfielder Abou Diaby received a straight
red
for raising his hand to Joey Barton. Newcastle players and fans inside the stadium saw this as a chance to stage one of the most remarkable comebacks football has ever seen. Two Joey Barton penalties either side of a Leon Best strike had brought Newcastle back to 4-3 with less than 4 minutes to go. Then up stood Cheik
Tioté, who had been Newcastle's star player for most of the season, to volley the ball into the corner of the net and complete the comeback. 4-4!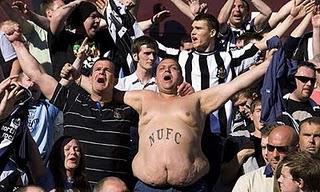 The Toon Army will be hoping that the money from the
Andy Carroll transfer will be used to bring in new players.
St James Park had witnessed two great games during the season that would remain classics in Geordie folklore, and although
without
a great home record by Newcastle's standards, their Premier League safety was guaranteed with a home victory over Birmingham, three games before the season ending.
So, with the end of the season and survival guaranteed,
optimism is even higher for
next
season
. With Alan Pardew reportedly having the vast majority of the Andy Carroll transfer money available to him, he has a lot at his disposal to build his legacy at St James Park and try to establish Newcastle as a consistent top half club and potential contenders for Europe, something that arguably the Toon Army deserves.
If you share our passion for football and would like to share your views with a worldwide audience, Can We Play You Every Week? offers you the chance to write either a single or series of articles on a subject of your choice as a guest writer.
If you're interested in becoming a guest writer, or simply would like some more information, send us an email at [email protected] or alternatively Tweet us @canweplayblog