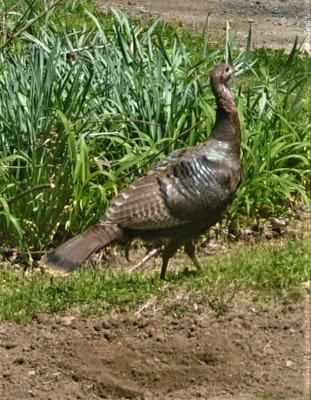 Turkeys everywhere agree: newly tilled garden tiers are excellent for dust baths . . .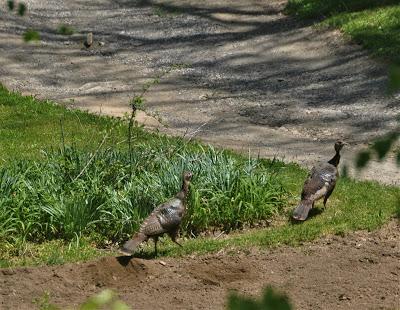 . . . until the relaxing wallow in the dirt is rudely interrupted by a crazy woman shouting at you.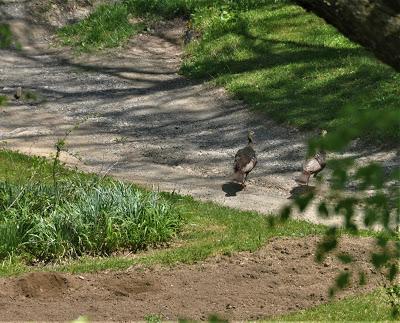 They'll probably be back. But at least we hadn't planted that tier yet -- I've started some pumpkin seeds in a flat on the porch and when I finally set out seedlings, I'll protect them with a tripod of sticks. I don't think the deer and rabbits and ground hogs will bother pumpkins . . .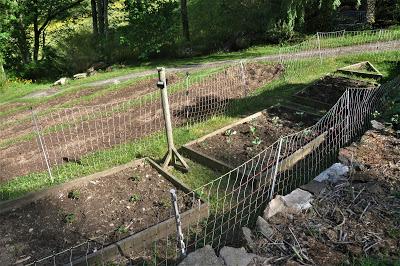 Things  they will bother --like broccoli, kale, collards, beans, and peppers -- are/will be planted in the beds protected by electric netting.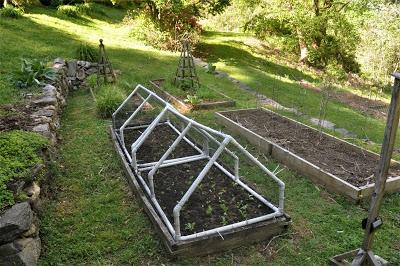 Lettuce and spinach are in these two beds under protective netting. Netting in need of repair, alas -- either deer or dogs or particularly aggressive bunnies had made holes here and there so I spent a tedious hour  re-wrapping the frame to cover the lettuce plants I'd just set out.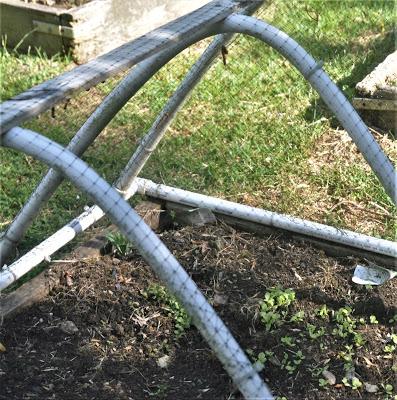 I can't adequately describe what a lot of no fun it is dealing with this very fine, hard-to see netting. It catches on everything: the buttons on my shirt (I finally took it off,) my fingernails (two broke off,) my feet, sticks, the little plastic ties used to secure it, itself . . .
Because it's so hard to see -- especially as I was applying it atop last year's netting --  at times I found myself losing track of what edge went where. At one point I found myself swathed in the stuff which, like the Worm Ouroboros seemed to have no beginning and no end.
At last it was done -- not neatly, but done -- I removed this handsome toad from the lettuce bed where he'd holed up for a nap so he wouldn't get caught in the fiendish netting.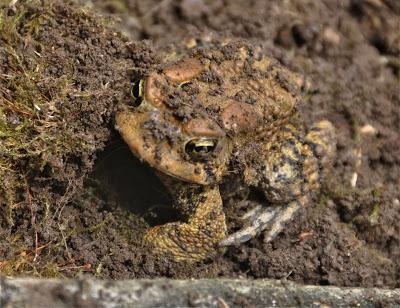 Unlike the other critters, Toad is welcome in the garden. Rather than eating the produce, he'll eat the bugs that eat the produce.
Tomorrow I'll bring down a broken clay pot to provide an official Toad Hall for him.