I have been wanting to try my hands on focassia  for a long time.I saw a wonderful recipe in this blog and ever since I have been craving for one.For those who don't know what is focassia- it is an Italian bread,flat bread whose dough is similar to pizza dough and has a dimpled surface and topped wit herbs,onions and/or olives.Read more about focassia here.Finally I made it yesterday and it was a hit :). I did major changes o the recipe according to taste and choice and we really loved the way the bread turned out.I added some dried herbs to dough itself and also added some bell peppers along with onions as topping.Here is my recipe for whole wheat focassia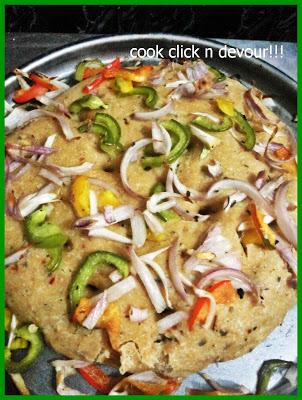 Whole wheat focassia
Star ingredient-Whole wheat flour+mixed vegetables
Time:
Dough preparation-15 minutes
Proofing:1 1/2 hours+1 hour
Baking:20-25 minutes
Serves-3
Ingredients:
1 1/4 cup whole wheat flour
1 1/4 teaspoon active dry yeast
3/4 teaspoon salt(adjust)
3/4 teaspoon sugar
2 tablespoon olive oil
1 1/2 teaspoon chilli flakes
1 teaspoon dried oregano
1 teaspoon dried basil
1/2 onion chopped fine
1/2 of green,red,yellow green bell pepper chopped fine
Method:
1.In a large mixing bowl add dry yeast,sugar and 1/4 cup luke warm water.Let it rest until it turns frothy.To this all the ingredients except onions and bell pepper and bring together.Now start adding water and knead.Knead for 10 minutes till the dough turns soft and smooth.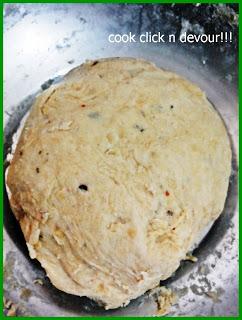 2.Let it rest for 1 1/2 hours.By then it will be double in volume.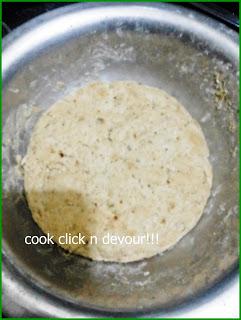 3.Take the raised dough,punch it back and shape like a thick crusted pizza on a pizza plate.make dimples using your index finger and let the dough rest for another 30-60 minutes.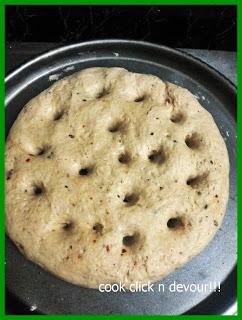 4.Take the onions and bell peppers in a bowl and add little salt and oil.Mix well.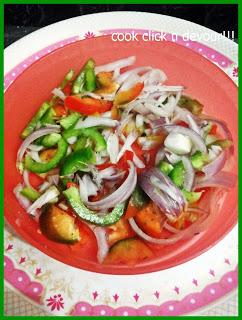 5.Preheat oven at 200C .Arrange the vegetables on the top of the bread and bake around 20-25 minutes till golden brown.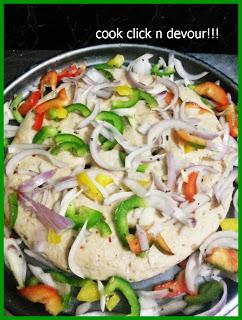 6.Cool on a wire rack,slice and serve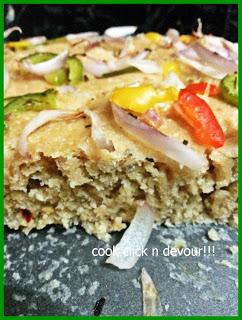 Notes:
1.The bread is dark in color because of wheat flour.If you use all purpose flour you will get light colored bread.
2.You can top it with grated cheese,olives or cherry tomatoes also