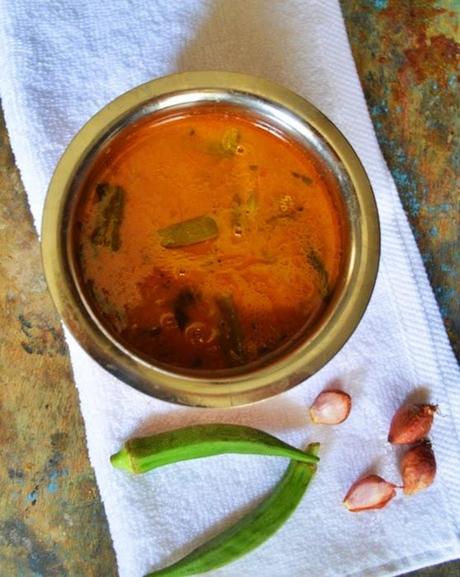 Vendakkai puli kuzhambu recipe is a yet another classic recipe from Tamil nadu.Vendakkai puli kuzhambu is a spicy,tangy tamarind based stew with okra.It is a very simple recipe with brilliant aroma and taste that lingers in your tongue even after hours of eating. In Tamil homes kuzhambu is served as the first course in lunch along with steamed rice,so it goes without saying that we make a lots of kuzhambu just to avoid boredom and also balance the taste and nutrition.When we make sambar with dal,we make some stir fry so that the heaviness of sambar due to dal is balanced by light stir fry,on the other hand when we make kuzhambu with out dal such as vatha kuzhambu,puli kuzhambu,a kootu is included or may be some tuber like potato,raw banana roast will be made.These are some combinations we make and few people around me make this way,the main point is it is taken care that the whole meal is balanced and not very heavy to digest.Now coming to this vendakkai puli kuzhambu,if you look at the ingredients you might not find anything special or different but trust me the taste of this stew is very different and absolutely delicious.Addition of pearl onion is optional,before my wedding in my home we used onions very rarely,it would be only in pulao varities made specially for me and my sister :P, but now here I use onions more often as we really like them,so you can use onions they boost the flavor but if you are not very comfortable you can leave it out too.That will not reduce the taste.Here you go with vegan vendakkai puli kuzhambu recipe
 Here is the collection of kuzhambu recipes that I have blogged so far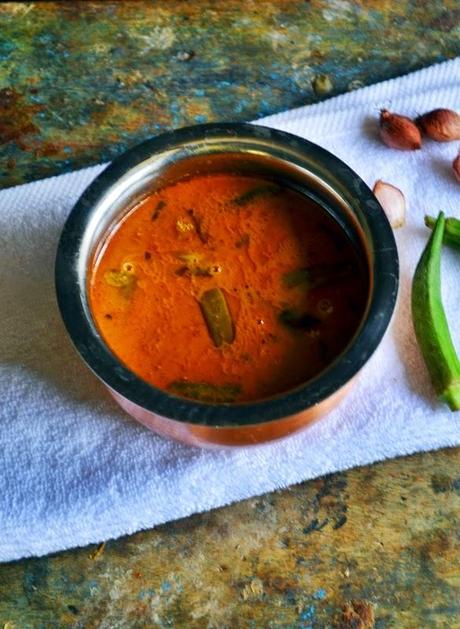 Vendakkai puli kuzhambu recipe
Star ingredients:Okra and tamarind
Time:30 minutes
Serves:3
Ingredients:
10 okra/vendakkai/bhindi
10-12 pearl onions
1/2 cup tamarind pulp ( soak a lemon sized tamarind ball in water for 30 minutes,extract the pulp)
2 teaspoons sambar powder
1/4 teaspoon turmeric powder
1 teaspoon grated jaggery
Salt
Sesame oil
To temper:
2 teaspoons sesame oil
1/2 teaspoon mustard seeds
1/4 teaspoon methi seeds
10-12 curry leaves
2 dried red chillies
Method:
1.Wash the okra and pat dry.Cut into 1" pieces.Peel the onions.Soak the tamarind in hot water for 30 minutes and extract thick pulp.
2.Add 2 teaspoons sesame oil to a kadai and heat it.Once the oil is hot add mustard seeds,once they crackle,add methi seeds,curry leaves and red chillies.
3.After tempering,add the onions and saute well.Add the cut okra and saute for 2 minutes.Add sambar powder,turmeric powder  and saute till the raw smell goes off.
4.Add the tamarind pulp and bring to a full boil.Add 2 cups water,salt and boil for 10-12 minutes
5.Once the stew has thickened to half way,add jaggery and boil for 10 more minutes till the stew is thick enough.
6.Add 1 teaspoon sesame oil and remove from flame.Serve hot with rice.
Notes:
1.If you do not want to use onions,add 1/4 teaspoon asafoetida while tempering.
2.To get deep color in kuzhambu use old tamarind(black tamarind).
3.Do not avoid jaggery or do not replace it with sugar.