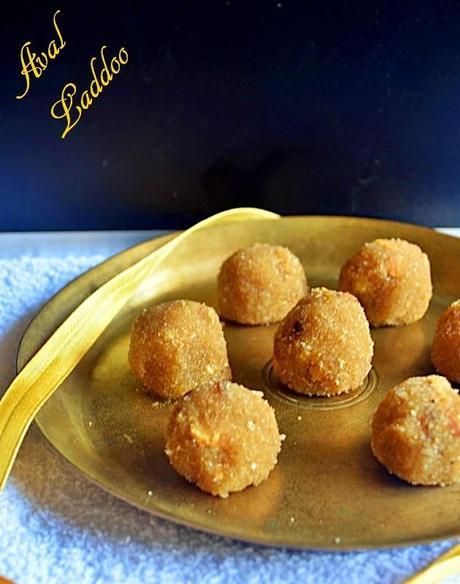 Aval laddoo recipe or poha laddoo is a very easy to prepare recipe suitable for festivals,especially gokulashtami aka Krishna Jayanthi around the corner,this aval laddoo is perfect for neivedhyam for the Lord as aval is Lord Krishna's favorite :). You can make these laddoos even on the festival day itself along with the feast as this aval laddoo can be prepared in a jiffy,it just takes less than 30 minutes and work is also very minimum.I have seen in many places aval laddo is white or cream in color similar to rava laddoo,but we make it in golden color,the type of ghee you use determines the color and also we add crushed saffron in this laddoo for flavor along with cardamom. Try making this quick sweet for the upcoming festivals and treat your family :). Here is aval ladoo recipe with step by step pictures.
You might like to check besan ladoo,badam ladoo, dry fruit laddoo recipes too.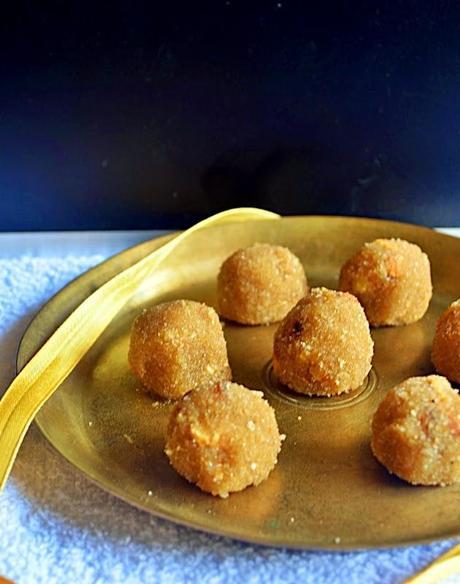 Aval ladoo recipe
Star ingredients: Aval/poha/beaten rice
Time:30 minutes
Yield: 10 laddoos
Ingredients:
1 1/4 cup aval/poha/beaten rice
1/2 cup sugar
1/3 cup ghee
1/8 teaspoon saffron
1/4 teaspoon cardamom powder
2 tablespoon broken cashwes
10-12 raisins
Method:
1.Heat a pan and dry roast the aval/poha till it turns golden and crisp.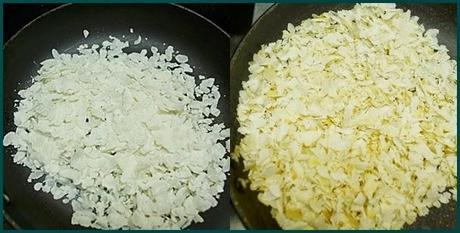 2.Grind to a fine powder along with sugar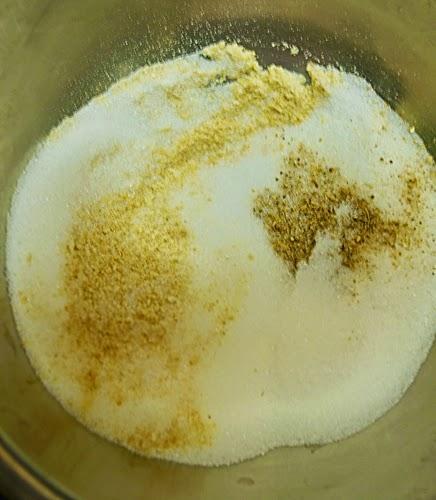 3.Dry roast the saffron and add to the poha-sugar mixture.
4.Heat the same kadai and add the ghee to it.Once the ghee is hot add the broken cashews and raisins. Fry till the cashews turn golden.
5.Add the fried nuts to the poha-sugar mixtyre along with the ghee.
6.Mix well.The mixture will be somewhat wet and crumbly.Allow it to rest for sometime till it turns  warm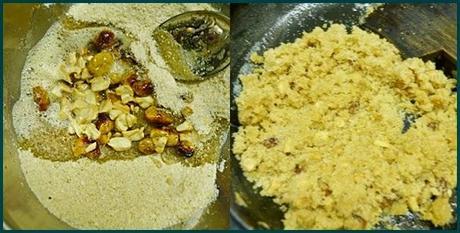 7.Apply some ghee to your palms and make laddoos.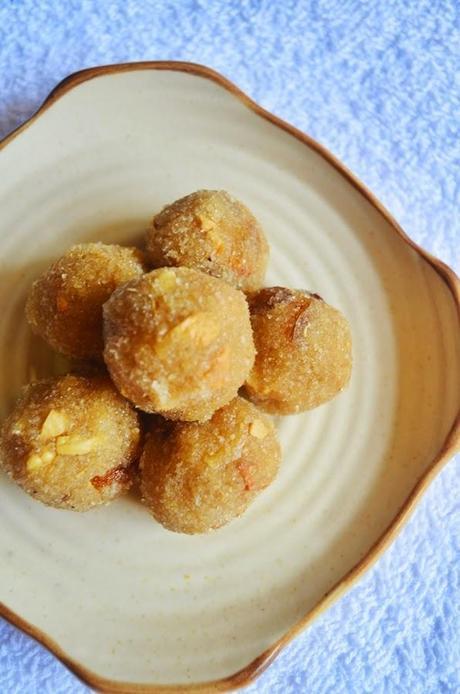 Notes:
1.Make laddoos while the mixture is warm,if it cools down laddoos will break when you try to shape.If the laddos break while shaping,heat 1-2 tablespoons ghee and add to the mixture,try shaping again.
2.Addition of saffron is optional.