I might be giving away a three-day Turn 1 Pit Grandstand ticket to the 2011 Formula 1 SingTel Singapore Grand Prix! Our friends from YourSingapore will be giving one of my lucky readers a chance to experience high-octane race action this coming September 23-25 if I get enough support from you guys.
It's quite easy, really. Just tweet (on Twitter, of course) your favorite post among my Grand Prix Season Singapore posts, and use the hash tag #LostBoy4GPSS. Below is a list of my posts and their corresponding tweet-friendly links:
Highlights of the Singapore Grand Prix: Why You Should Go http://tiny.cc/gpsslb1
How to Live Louder than Life at Grand Prix Season Singapore http://tiny.cc/gpsslb2
I Want to See Linkin Park at the 2011 F1 Singapore Grand Prix http://tiny.cc/gpsslb3
The SingTel Singapore Grand Prix: Formula 1's Only Night Race http://tiny.cc/gpsslb4
Entertainment Is Everywhere at the Singapore Grand Prix http://tiny.cc/gpsslb5
Party 'til the Sun Goes Up at Grand Prix Season Singapore http://tiny.cc/gpsslb6
Again, just tweet a link above and the #LostBoy4GPSS hash tag. Here's an example tweet:  
My favorite Singapore Grand Prix post: http://tiny.cc/gpsslb1 #LostBoy4GPSS @lloydthelostboy
Anyone from around the world can join (especially those in the Philippines, Singapore, and Malaysia), long as you can receive the ticket from me in Singapore. Those in the Philippines may opt to receive their ticket here in Manila, too. The ticket is transferable, so you may also win for someone who's going to Singapore this September 23-25.
You can tweet as much as you like, but your entry will be counted as one. Deadline of tweets will be on September 19, Sunday at 6PM Philippine time (GMT +8).  I'll be using the trusty Random.org and will report and notify who won after the raffle.
Note that this is a tweet race, so if I'm going, you will go too! Do support me by joining!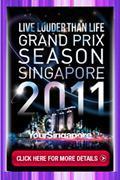 At the Turn 1 Grandstand would you witness the awesome braking power of F1 cars, hence this grandstand is ideal for photographs. In 2009, Mark Webber hit the barrier near Turn 2, which is in close proximity to the Turn 1 Grandstand. More ticket information here.
Know more about Grand Prix Season through the YourSingapore Philippines Facebook page by clicking the badge at the left or through this link.