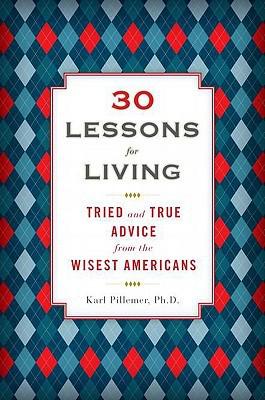 With chapters covering everything from marriage to work to parenting to living a happy life,
30 Lessons for Living: Tried and True Advice from the Wisest Americans
, is filled with sage advice. Renowned gerontologist, Karl Pillemer, Ph.D., who during the course of researching those over the age of 65, determined that they have a lot of life and wisdom to share.
We are on the verge of losing an irreplaceable natural resource. The inexorable process of human aging is depriving us of one of the most extraordinary groups of human beings that has ever lived: America's older generation. The last veteran of World War I has died; those of World War II are now in their eighties. The youngest children of the Great Depression have reached their late seventies.
Over a thousand "experts" (those over the age of 65) were interviewed.  The results are broken down into the top five lessons under each chapter heading; for example - the chapter on marriage has a summary of the top five lessons given.  Anecdotes from the experts are shared throughout giving each piece of advice a more applicable approach.  Most of the lessons I have heard before.  Some I may have heard just not internalized or really given much weight....such as "Act now like you will need your body for a hundred years....Here's the core of the lesson: it's not dying you should worry about--
it's chronic disease.
"
As the author points out, there are over 35,000 self-help books out there.  This one however, has the life experience to back it up.  And it reads as if you were sitting with a close friend sharing life stories.  The advice is easy to implement no matter what stage you are in in your life. This is one resource I plan on sharing with my kids and friends - it's that good.
Be sure to check out
The Legacy Project
through Cornell University.  The background for the book is shared. There's also a section to include stories of your own or of those from your family experts. 
Recommended
for anyone.  It is not a difficult nor boring non-fiction read, it is more of a life guide.  Learning a bit of the background that led to the development of the research and compilation of the
30 Lessons
only adds to the relevance of the book.
In a Word:
Wise
Publisher: Hudson Street Press  | Published: November 10th, 2011
288 pages | Genre: Advice/Non-fiction
Many thanks for the complimentary review copy from the publisher