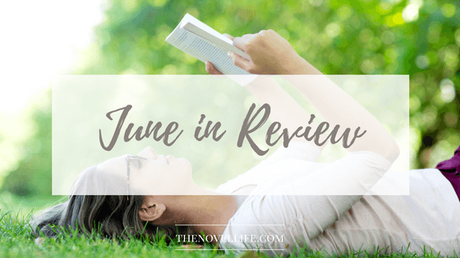 June was quite the month between attending Book Expo as a correspondent for Armchair Book Expo, leaving from New York to fly to Virginia where we camped for almost 2 weeks visiting my sweetheart's family, getting home after being gone for almost 3 months and all of the little things it takes to open the house back up and get readjusted to life in GA vs life in AZ. It might sound like lots of fun traveling back and forth, but honestly, it's tough. My fellow readers will understand – how the heck do I carry enough books to get me through 3 months?!? đŸ˜‰ Luckily, the library is within walking distance in Arizona AND it's got a gorgeous park! If you follow me on Instagram you'll see almost daily pictures of the parks in AZ when we are IN Arizona.
You'd think that with traveling I would have been able to get lots of books read – nope. Didn't happen. This month I only read 4 books (not counting picture books with my grandson – although now he's reading to me! Captain Underpants…oh my, what happened to those Dr. Seuss days!)
Books Read
The Night the Lights Went Out by Karen White – from the library – review coming next week
Before We Were Yours by Lisa Wingate for SheReads Book Club – review coming next week
You Are a Badass at Making Money by Jen Sincero – from Audible
You Are a Badass by Jen Sincero – from Audible
June Posts
Review of A Bridge Across the Ocean by Susan Meissner
Armchair Book Expo – Introductions and Best Practices
Favorite Web Reads
I love a well-made quiz, especially when it blends personality and books…This quiz by Modern Mrs. Darcy is made for anyone who loves books and personality quizzes just as much! If you've taken it let me know your results in the comments! I've taken it a couple times and got something different, but both seem pretty darn accurate!
The Inspy's were announced this week. It's the bloggers' award for literature that grapples with expressions of the Christian faith. Have you read any of these winners?
And that's a wrap for June.
This weekend as our neighbors in Canada celebrate their 150th birthday and as we Americans celebrate the 4th of July – our Independence Day – I'm sending you wishes for a safe, happy and healthy long weekend filled with friends, family, and lots of yummy summertime foods.