I received this book for free from the publisher in exchange for an honest review. This does not affect my opinion of the book nor the content of my review. This post contains affiliate links.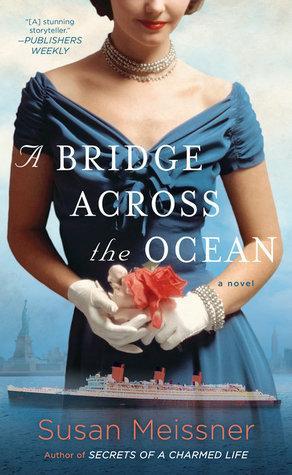 A Bridge Across the Ocean by Susan Meissner
Published by Berkley Books on March 14th 2017
Genres: Contemporary, Historical
Pages: 368
Source: complimentary review copy
Amazon / Barnes & Noble
Goodreads

A story of choices made, intersections crossed and lives forever changed, A Bridge Across the Ocean is as surprising as it is stunning.
Modern-day Brette sees 'drifters' also known as ghosts. When she tours the RMS Queen Mary at the request of an old friend, Brette is compelled to dig deep into the lives of two WWII brides who crossed from Europe to America in 1946: Simone Deveraux from France and Annaliese Lange from Germany.
As the book goes between the modern day Brette and the 1946 crossing of Simone and Annaliese layers of atrocities the European women suffered are revealed. For Brette to understand herself and her gifts she must first understand who it is haunting her. And she must come to terms with not only her past but her future if she's to find happiness.
All three characters grow throughout the novel, showing strength and vulnerability in the face of insurmountable odds. Of the three women, my favorite became Simone. She is resourceful, fierce, strong and yet incredibly tender and kind with a capacity for love to rival no other. Brette is my least-liked character simply because she wastes so many years growing up. But then again, I'm not sure how I would respond to having ghosts as my playmates either!
A fascinating aspect of the book is learning about the RMS Queen Mary. The author did a fabulous job incorporating the history of this steamer ship seamlessly into the novel. For example, did you know the Queen Mary was used as a warship transporting thousands of troops to Europe? And returned to the United States with hundreds of European women who married American soldiers. The Queen Mary is now docked in the harbor of Long Beach, California and can be toured daily. You can even stay overnight (and longer) in one of the many art deco and luxurious staterooms on the purported haunted ship.
Recommended for those who enjoyed The Orphan's Tale by Pam Jenoff or On Folly Beach by Karen White.
Many thanks to Penguin Random House, Berkley Marketing Team and the SheReads Book Club for the review copy of A Bridge Across the Ocean by Susan Meissner.