Who counts calories on St. Patrick's Day?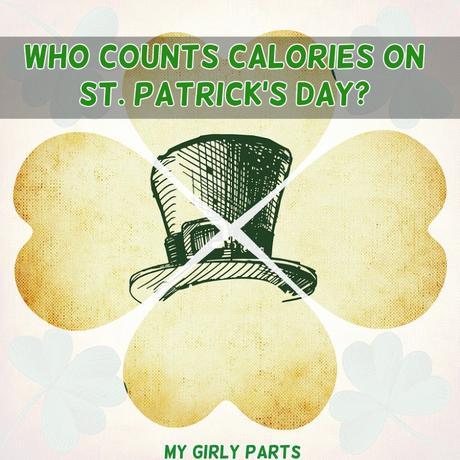 St. Patrick's Day, The Origin
St. Patrick's Day did not start because of Leprechaun's or Beer. Every year on March 17th, the Irish and "Wannabe" Irish celebrate a religious feast for the patron saint of Ireland. This celebration includes:
dancing
parades
specialty foods
beer
cabbage
and a whole lot of

GREEN

!
Customs
It is customary to wear GREEN on St. Patrick's Day. It is said that St. Patrick used a shamrock to explain the Holy Trinity to the Pagan Irish.
The color GREEN has been associated Ireland since the 1600's when the green harp flag was introduced by the Irish Catholic Confederation.
The wearing of green has followed through into 2016 in celebration of the holiday.
Celebrations
People around the world celebrate St. Patrick's Day in many ways. The most popular way is by parades. The second popular way is by eating and drinking.
Let's look at the impact of eating and drinking.
Do Not Count Calories on St. Patrick's Day!

From Visually.
Do any of these stats bother you?
Before you think about having those beers and partying all night long, be sure to think about HOW you are going to burn those calories off!
It's time to get your GREEN on! #StPatricksDay
Click To Tweet
Over to you
Do you celebrate St. Patrick's Day and if so, how?

Brenda Pace
I have over 28 years as an Administrative Assistant, including at the Executive Level. I also have over 5 years experience as a Content Writer, Webmaster, Web Designer, and Social Media. If you're in need of assistance, please
Send me an email
and let me know how I can help.

Latest posts by Brenda Pace
(see all)
Who counts calories on St. Patrick's Day?

- March 16, 2016

In Health News: The Zika Virus

- March 15, 2016

A Guide to Becoming a Superhuman Force of Nature

- March 14, 2016
Related
Tweet
Share
2
+1
1
Pin
2
Share
Stumble
1
Total Shares

6