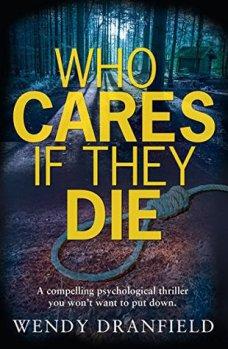 Who Cares If They Die by Wendy Dranfield
Published by Ruby Fiction on September 25, 2018
Genres: Crime, Mystery & Detective, Thrillers
Pages: 289
Format: ARC
Goodreads
Buy on Amazon



Did she jump or was she pushed?

It starts with the hanging woman in the Maple Valley woods; the woman with no shoes, no car, and no name. On paper, it's an obvious case of suicide – but to Officer Dean Matheson, something doesn't add up.

Then there are the other deaths, deaths that also look like suicides – but are they? The victims are all women living on the fringes of society, addicts, and criminals. Who will miss them? Does anyone really care if they die?

Dean Matheson is making it his business to care, even if it means he becomes a target…
I recently learned about a book reviewing team called Choc Lit Team.  For obvious reasons, I asked to be included in the team! YAY!! More books to read and review for everyone! Today's post is about Who Cares If They Die by Wendy Dranfield.
It appears as a suicide – a woman is hanging without any shoes and without any identification in small town Maple Valley.   Something doesn't seem to add up on this supposed suicide to Officer Dean Matheson.  Then there's two other women found – also apparent suicides; a drug addict and an incarcerated criminal.  The forensics seem to uncover evidence of a possible murder, and that makes it the business of Officer Matheson to get to the bottom of these deaths, even if that puts him in danger.
Dean Matheson is a dog lover, dog-dad to Rocky, his lovable Rottweiler.  He's a great character because he's relatable, believable and flawed; it's easy to emphasize with his problems.  He is still grieving after the death of his brother, his marriage is nearly on the rocks, and his job is difficult because of a lazy and overbearing boss.  In case this isn't enough, it turns out that there are secrets that will ultimately jeopardize bot his marriage and his life.
Dean meets Beth, a British female psychiatrist from the local women's correction facility. He isn't thinking very clearly when he becomes involved in a relationship with her. Dean doesn't know what readers know about Beth: she is not the kind person she appears to be, but instead, she is conniving and manipulative.
Unlike a lot of the thrillers/mysteries/suspense books I've read, the identity of the antagonist is revealed quite early in this story.  This unusual approach seems to work really well in this story because it added a layer of tension for readers as we watched Dean discover the truth.  Readers are provided with a very compelling story with some surprising twists and turns.  The characters are well written and the flow of the plot goes very well.  The author lets readers know that this is book is the first in a series that will feature Dena and Rocky, and she's currently working on the next book.
---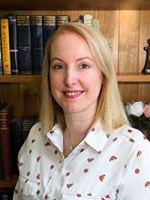 Wendy is a crime thriller writer who lives in the UK with her husband and 3 rescue cats.  She is both an indie author and a traditionally published author, with two novels released plus several short stories published in UK and US anthologies.
Wendy is a member of the Crime Writers' Association and the Society of Authors.  
You can connect with Wendy Dranfield on social media ~~
---
I was provided with a complimentary electronic advanced reader copy from Chic Lit Team through Net Galley in exchange for my post.  I was not required to post a positive review, but have chosen to do so because this book was great! Thank you!

~ ~ ~ ~ ~ ~ ~ ~ ~ ~ ~ ~ ~ ~ ~ ~ ~ ~

It would be great if you would stay connected with me!! You can follow me on Twitter @DebiL1611, like me on Facebook at 2014 and Beyond, circle me on Google+, follow me on Tumblr, Instagram and Bloglovin', subscribe on YouTube, or connect with me on LinkedIn and Pinterest.

Please make sure to visit my homepage and subscribe to my blog for more great posts on running, fitness and lifestyle topics as well as food, product, music and book reviews, and more!