Some one asked me for a bean recipe about a month ago. I told them I would get right on it.
Then I got side tracked.
I procrastinated, like I often do.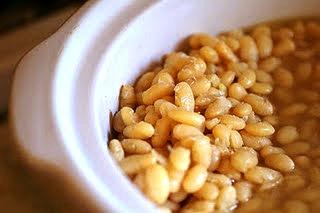 Anyway, today's recipe is exactly how I like to cook. This is pretty simple, let it cook in the crock pot all day. It makes a ton. You can use this as a side dish as is, or put your trusty food processor or blender to work, with a few other ingredients and make the best bean soup ever! You could add the cooked beans to a cassoulet (that is fancy talk for a casserole). I have several recipes in mind that include these beans. You will see them in some upcoming posts. So make some room in your freezer.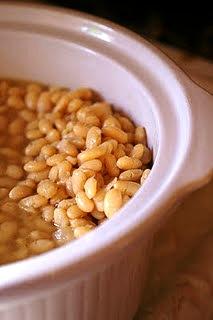 White Beans
Adapted from William Sonoma
2 lbs dried white beans such as cannelini or navy 2 tablespoons olive oil 1 chopped medium yellow onion 4 cloves garlic 1 tablespoon salt 3/4 tablespoon pepper Put the beans in a large pot and add cold water to cover. Bring to a boil over high heat about 15 minutes. Drain the beans and transfer to a slow cooker. In a frying pan over medium heat combine olive oil, onion, and garlic. Cook onion until translucent about 4 minutes. Add the onion garlic, salt and pepper to the slow cooker. Stir to combine with the beans. Add enough cold water to cover the beans by an inch or two. Cover and cook until the beans are tender. either on high for 4 hours or on low for 8 hours. Serve as a side dish. Peace be with you, Veronica