In today's market, many homeowners chose to renovate their homes in order to get the most out of their properties.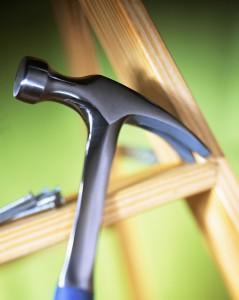 While upsizing to a bigger home is another possibility, it's not always viable for today's homeowners. Not only is there the additional financial burden to consider (in the form of a mortgage, stamp duty and legal fees) but there's also the extra time it can take for you to find the perfect property to move into.
Renovating an existing home is therefore a quicker solution – but it's not just suitable for those seeking an alternative to upsizing. Becoming a landlord, adding value to your property or just wanting to create your dream home are all feasible reasons to renovate.
While it's impossible to predict everything when doing a full-scale renovation, it is important that you have planned every aspect and are prepared for the unexpected. One of the first things to consider is which room to start with, but this will probably depend on why you're renovating in the first place.
To sell up
Bathrooms are central areas of every home and that means that when buyers are viewing your property, they will probably be taking a close look at your bathroom.
If you can't remember the last time you redecorated this overlooked room, it's time to upgrade now. Bathrooms are often considered one of the more expensive rooms to redecorate too, so having it taken care of before putting your property on the market will allow you to recoup this cost through the asking price and attract lots of interest from house-hunters.
To add value
According to a recent survey, the kitchen is the most popular room to renovate, with 43% of homeowners having installed a new kitchen in the past three years. It's also now the most important room in the home for families, so if you're thinking about adding value to your home then the kitchen is a good place to start.
To make room
Are you planning to start a family? If you want to make your current home more like a family home then you might need to make some adjustments. If you have empty loft space then this could be the ideal opportunity to transform it into a master bedroom. In most cases, it's probably not very feasible to use it as a nursery or child's bedroom because of possible access problems.
To rent out
If you have a huge seven-bedroom house that you plan on letting out to students from the nearby university, the bedrooms are the priority of any renovation.
Don't forget that in most cases, students will be renting the room rather than the entire house and that means their attention will be focused on the one space they get to call their own, rather than communal areas. Think about investing in plenty of storage and robust carpets.
To improve efficiency
Are you fed up of paying a small (or big!) fortune for your energy bills? Have you decided to take action and renovate your home?
The best place to start is usually the living areas as they are where you spend the majority of your time. You will want to ensure that you have double or triple-glazed windows, adequate cavity wall insulation and draught-proofing.
Author Bio Box:

Anita Langley is an interior design student. At the weekend you'll either find her scouring flea markets or up to her elbows in paint. She often rights articles for Vita Investment Property Manchester.
Shared by Don Zilleri
BidsByPros.com moderator
Stop searching! Start selecting!

Don Zilleri
Don Zilleri is an author and researcher. He is specialized in business marketing, development and is a small business owner. He learns as he writes by researching and interviewing experts and professionals in many categories and topics. Join him in Facebook and become part of his pro network in LinkedIn All Don Zilleri's article's authored exclusively for BidsByPros.com All rights reserved. If sharing, credit Bids By Pros in article source.