With Tourism South East Asia, you have lots of choices, many beautiful and attractive places, particularly the cost is not too expensive. The tourist destination famous in Southeast Asia must include Thailand, Singapore, Malaysia, ... However, if you want to travel in beautiful places and cheap and safe I would like to suggest to you some places below:
See more:
Vietnam tourGoing to myanmarTop Halong bay cruisesBoracay Island
Boracay Island in the Philippines is considered the most beautiful islands in Southeast Asia, can be comparable to the island of Phuket (Thailand), even more seductive. Boracay Island has two sides with a long coastline include Bulabog named East Coast, West Coast also is White Beach. The island is divided into 3 main areas station 1, station 2 and station 3, in which the station 2 is the center of a long 2km bustles with numerous restaurants and cafes, luxurious hotels, and station 1, 3 where of the big resort so quieter. If you are lovers of peace and romance, the island of Boracay is an excellent choice, especially watching the sunset with beautiful scenery blue sea, beautiful poetic. 
Krabi, Thailand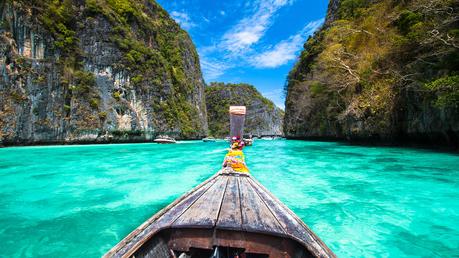 We can say Krabi (Thailand) is an ideal tourist destination and the best in Southeast Asia, because here is not noisy and crowded enough, cheap price and very convenient. With islands, beaches, white sand beaches, clear blue water and very clean, especially the diving area with the fish kick up very interesting. From Bangkok to Krabi beach wants to can go by bus, train or plane. Since located close to Phuket tourists coming here are not crowded, it was for that reason that the beach Krabi become peaceful and comfortable, suitable for those who intend to resort as your family. 
Do not miss: Promotions, receive incentives of up to 20-25% when booking through Agoda in March, click to view the program, the venue is endowed etc 
Penang city
Similar to the Hoi An of Vietnam, the city of Penang was recognized as a World Heritage Site, famous for the narrow streets, the special dishes, or watching the sunset, discover the wild nature ... Penang is known book is romantic and beautiful cities in Asia, the sea water here is in, can dive to coral reefs near the shore. 
Major shopping venues and attractions in the Southeast Asian region
Jakarta is known to be a major shopping venues and attractions in the Southeast Asian region in recent years. As the 4th most populous city in the world, is a combination of traditional and modern, wild and mysterious, and people here are very friendly. Indonesia, Jakarta is a city of bustling and noisy. The most interesting thing when traveling Jakarta's museums to visit here with unique architecture and culture civilization. Also, discover the island of Java is also very interesting, or to the colonial town of Bandung to visit the Buddhist temple at Borobudur spiritual disaster.
Featured in the mountain of pork smoking, Luang Prabang attracts tourists by the natural beauty and splendor. The city has about 40 ancient temples are built from different dynasties that each temple is a cultural works of high artistic value. You can take a boat upstream Mekong to visit Pak Ou mystical action, the famous tourist destination because there are many Buddha statues red lacquer trimmed with gold comes in many shapes and different sizes. 
Inle lake, Shan state, Myanmar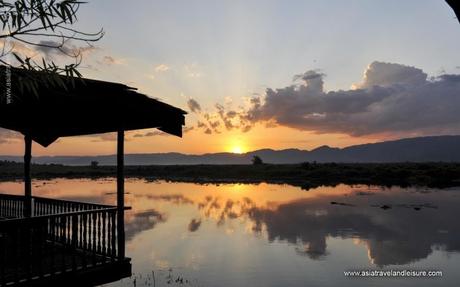 Inle is the second largest freshwater lake in Myanmar with romantic scenery and charming. Natural scenery here calm, blue lake with peace with the flaming red sunset. Scenery immense river surrounded by strips of rocky stretches in the early morning fog, Inle Lake looming with rows of wooden houses on the river, rows of reeds wafting on the wind and where it flickers villagers local hard living on the lake. The landscape here is like fairyland with the cultural life of primitive shield for Inthan become the ideal destination of many tourists. (Refer: Inle lake tour)
Above, is an attractive tourist destination in the Southeast Asian region that dulich9.com want to share with you. Hopefully with useful information about the "Be traveling places in Southeast Asia" can help you in choosing for his family an ideal tourist destination offline. Wish your family trip fun and memories.