Oh yeah, power plants.
Sometimes I forget that while constantly plugging in and out of outlets. I'm in the process of designing socket protectors… but "environmental socket protectors" that are in the shape of powerplants.  Everytime you remove this power plant shaped socket protector to plug in your device you are more aware of the environmental impact electricity has. Even just walking by them in your home, it immediately de-mystifies the source of electricity. I think  having a daily reminder of the real source of electricity — realizing its so much more than just flicking a switch — could have a great impact on people's daily consumption of electricity.
If there was a photo of a dead fish by your kitchen faucet, you would probably be more cautious about leaving the water on… but, thats not exactly the aesthetic I'm going for

.
My friend Jesse recently showed me these "Eco Reminder Stickers". They are really interesting and are aiming to make behavioral changes inside people's homes just like I am. However, I am struggling with the value proposition these types of products bring to the table. Yes, they are cute and clever, but what do they do? They don't realy add any significant decorative qualities or guaruntee you'll save money; they are more like green novelty items.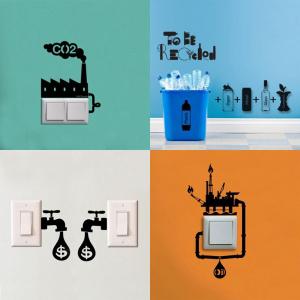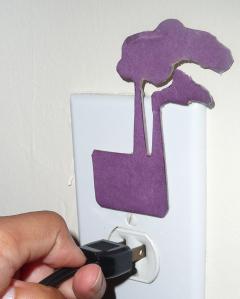 To the right is a quick chipboard mock-up of my general idea (shape, color, size all subject to change). I know I would buy socket protectors in the shape of power plants because I want to be more conscious of my electricity consumption. Not everyone cares about that though. I think I either have to:
(a) Accept the fact that environmental socket protectors have no real use and are just green novelty items (and make them REALLY cute and attractive). This route would lead to a pretty inexpensive product, probably sold in a 10 pack or something in fun colors.
(b) Add some more value to it by … adding a meter to track how long its been since you've plugged in or … track how much money you are saving by plugging in less. By adding components that might require electricity, this product seems pretty hypocritical. If there is some way to work it out, it would definitely be more expensive.
(c) Turn the idea into a product that could also double as an outlet safety protector. So, parents who have young children and are in the market to buy 50 safety protectors can opt to by environmentally themed ones instead of the plain ones.
Maybe I will start off with option (a) and then work my way through the other routes.