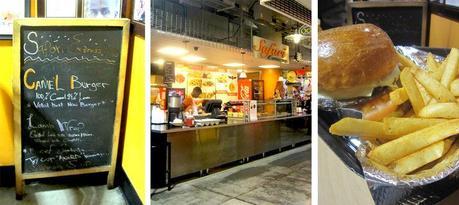 I confess that until yesterday I didn't know you could get a camel burger anywhere in Minneapolis! We went to Midtown Global Market to pick up some homemade Birdsong Soup for the week and decided to have lunch while we were there.
My husband couldn't resist trying the camel burger at Safari Express, which won the Diner's Choice award for Best African restaurant last year. I had Chicken Fantastik, chicken and veggies in a yummy yogurt sauce with rice, but I also got to taste my husband's camel burger.
Camel meat is very common in Africa, most often eaten in a stew like beef is here. The owner of Safari Express decided that Americans would be more likely to eat it served like a hamburger... he was evidently correct. It tasted much like a tasty thin hamburger, more dense and only slightly gamier. It was more dressed up than a typical burger... seasoned with an Ethiopian blend of spices (which also seasoned the fries), drizzled with a chipotle-coriander sauce, smothered in melted American Swiss cheese, topped with a slice of pineapple, lettuce and tomato and served on a freshly made bun from neighboring Salty Tart bakery, awarded Best Bakery last year.

This bazaar of shops, markets and eateries was buzzing with activity, about as unique and colorful an International experience as you will find in the Twin Cities. I love the vibrant mix of people, tastes and colorful wares from around the world. Live music from an accordian, guitar and string bass trio added to the global experience, entertaining both shoppers and lunchgoers eating in the central courtyard.
Check out Midtown Global Market at Lake St. and 10th Ave, Minneapolis, MN 55407... 3 hours free parking with validation in the ramp on 10th Avenue... or a great stop for lunch or a snack when you are biking the nearby Midtown Greenway.
The building that houses the market was part of the flagship Sears mail-order and retail headquarters built in 1928. It is hard to miss... the second largest building in the Twin Cities, second only to the Mall of America... now Allina headquarters and home of Midtown Exchange condos and The Chicago historic lofts. See homes for sale near Midtown Global Market.