When I moved back to Minneapolis several years ago, one of my primary considerations was the desire to be closer to family and friends. I had spent too many holidays and birthdays away, and I wanted to be back in a place where it was easy to organize a girl's night out or to meander over to Gram's on Easter morning in my PJs.
My recent birthday was a prime example of fulfilling this wish—I sent out an invite to a group of my wonderful lady friends to enjoy a leisurely Thursday dinner at Le Town Talk near Hiawatha on East Lake St.
I moved to Longfellow in July 2012, living near East Lake and the river. In the time I've lived in the neighborhood, I've passed the empty hull of Town Talk Diner and many other restaurants and edifices innumerable times, knowing little about the history of these places. Town Talk Diner was something of legend, but closed in 2011 after some kerfuffle surrounding corporate embezzlement. In September 2014, it was reincarnated with a Marseillaise vibe, a kind of working class French bar and restaurant.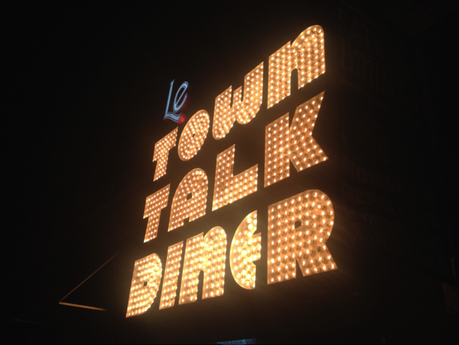 This new iteration is described as "part diner, serving French inspired comfort food whose taste and flavor infused the childhood home of owner and Marseille native Emilie Cellai, and part bar, serving a menu of signature international and sparkling wine cocktails mixed up by Julien Masson of Intercontinental, Hotel Dieu in Marseille."
Because I follow a gluten-free diet, I'm often wary of trying new restaurants, especially those with a limited menu. The menu at LTT, which changes periodically, combines cuisines to create Franco-American dishes that are comfortingly familiar but decidedly different, all inspired by family recipes.
Somehow, despite a scant menu of 25 items or so, Le Town Talk comfortably caters to both GF and veggie diets. In addition, all ingredients (including meats, fruits and vegetables) are sourced from local farms with an emphasis on organic wherever possible.
Perhaps it was majoring in French and studying in-country for a semester, , there's a part of me that craves the coziness and familiarity and authenticity this bistro offers. Or possibly it's the human desire to have our own Cheers-type establishment close to home: while the food is fantastic, LTT describes itself more accurately as a "buvette," or drinking place in colloquial French—"the social hub where you gather after work and stay to mingle long into the night."
And my girlfriends and I certainly did! On a Thursday night, the traffic at LTT isn't terribly heavy, and we sat and talked and drank and munched until we realized we were the last group there and, begrudgingly, bid each other adieu.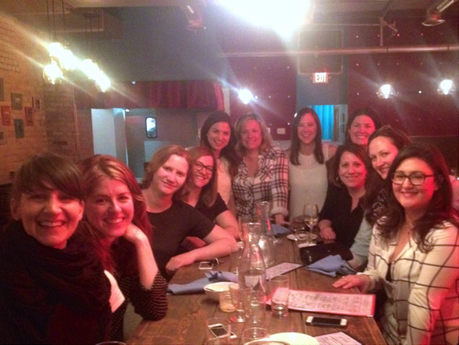 Angela Anderson, 612-396-3654
Realtor, Results Support Services: EMAIL — BIO
Licensed Associate Working with Sharlene Hensrud of RE/MAX Results, and HomesMSP — Sharlene, John, Angela
 RELATED POSTS:
Wednesdays Unplugged - Wedge Salad with French and Blue Cheese Dressings
Where to find the best authentic French baguettes in the Twin Cities
A bit of Paris where you'd least expect it!