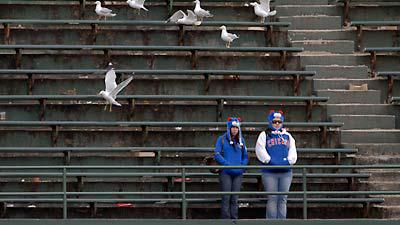 I am a little confused can someone please tell me why no one is going to the Cubs and Indians Games. Yesterday the Cubs played the Arizona Diamond Backs and beat them 4-1.The attendece was announced at 26,292, or about double the number of actual fans at Wrigley Field. So in reality there was 13,146 fans there.
Where are those hardcore fans that will go to a game no matter what, whether its cold, hot, or pouring. You have some preety good marque players as well including Alfonso Soriano,Carlos Zambrano,Aramis Ramirez, and Carlos Pena. Even Kerry Wood was dumfounded saying "It's a little strange seeing empty seats," "It's our job to change that."
Meanwhile in Cleveland the Indians did not fair much better. On Saturday they lost to the Chicago White Sox 8-3. In attendce was 9,853, this was intresting conserding on Friday their home opener they had 41,721 fans. the 9,853 was the lowest of all time. 
Consider this at one time they had 455 straight sellouts, which lasted 6 years from June 12, 1995 and ended April 4, 2001.granted they had such superstars as Jim Thome and Manny Ramirez.
It has been 3 games and to see such a downward drop in attendance it makes you wonder where the real fans are at. But, we have to remember the Indians were last in attendance last year in the major leagues. So, maybe they are continuing  a terrible trend. Cleveland Plain Dealer Reporter Paul Hoynes brought up a good point he said. 
"The drop in attendance from Friday's sellout of 41,721 was startling, but familiar. This is how fans used to react to the team when it drifted aimlessly for almost 40 years at Municipal Stadium, the old parking lot on the shores of Lake Erie".
What Are Your Guys Thoughts? Is This Just a  Blimp? Or a Possible Trend for Each Team?
***photo credit to ChicagoTribune.com ***information used from Cleveland.com , and chicagoist.com 
Related Posts : MLB