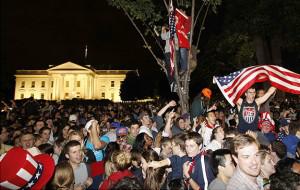 Last night was probably the biggest moment in Us History since 9/11. Osama Bin Laden was shot and killed. Sports is a amazing thing because when moments like this happen. Sports integrates the news seemingly,making us more than just fans of are respective teams.
But, connecting us as one, a people that bond together and celebrate America no matter sports team, race, ethnicity, and social economic status. I found some videos that represent this from last night from thephilies game and the WWE from a paper view from last night . The videos can found below i hope you enjoy them.
Once again i thank you all for you support of Off The Court Sports.