It's no secret that I run three blogs - I know, I'm a blogaholic!! There's this one that I use for beauty, fashion, lifestyle etc (albeit a little think on the ground at the minute), I also have an
Entertainment
one that I run with my other half and I also have a
writing-based
one. Whilst makeup and entertainment very easily collide, I generally don't talk so much about my (fiction) writing over on this blog anymore. So, when I do manage to find something that brings my writing and my love for beauty - or namely, my love for Nail Art, I know that I have to share it with you guys.
Seriously, how awesome are these NaNoWriMo-inspired nails??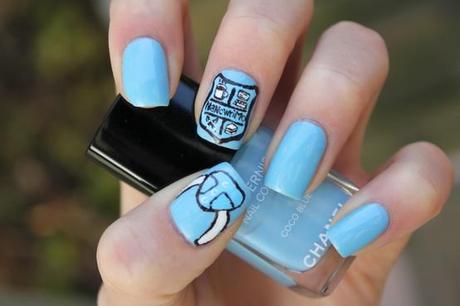 Source:
coewlesspolish.wordpress.com
via
Crystal
on
Pinterest
How amazing are these? I'm always jealous of Nail Art like this, because I don't have the steady hand or artistic ability to achieve anything even close to as beautiful as this!
I found this over on Coewless Nail Polish Blog, which everyone should definitely check out, even if only to see more images of these nails, or her amazing My Neighbor Totoro ones, which are just WOW!