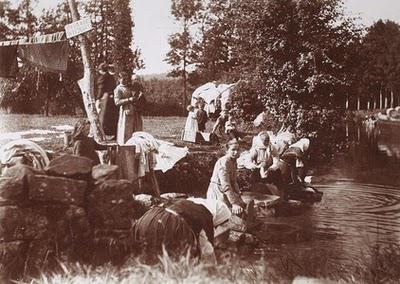 I have to  see this because I love this kind of art history mystery.
"Where I Was Born..."A Photograph, A Clue and the Discovery of Abel BoulineauMarch 5-August 21Art Gallery of Ontario
Vanessa Fleet, a Museum Studies M.A. student at the University of Toronto (yay!) was taking her internship at the Art Gallery of Ontario last summer. While at the AGO, Fleet was charged with researching an anonymous collection of photographs of French regional life from the turn of the last century. The assistant curator of photography at the AGO asked for Vanessa's help in determining who the photographer of these works was because Vanessa could read French and she had previously written an essay about Eugene Atget, another French photographer.
Fleet began her investigations by carefully reading the inscriptions on the backs of the photos. She found people's names, addresses and even a birthdate. She contacted the parish responsible for the records of Auberive, a place name found on the back of one of the photos. They confirmed that the birthdate on the back of the photo was for Abel Boulineau, a recognized Paris-based painter.
There was nothing to actually connect Abel Boulineau with the photographs at the AGO until Fleet, nearing the end of her internship, came upon a picture that made her stop in her tracks. While going through the final binder, she found an image of women and children, doing their laundry in a river. It was Vanessa Fleet's "Aha!" moment as she found the photo very familiar. The photo was almost identical to a Boulineau painting had seen on-line two months earlier called "The Washerwomen", and she had found the key to the photo's attribution.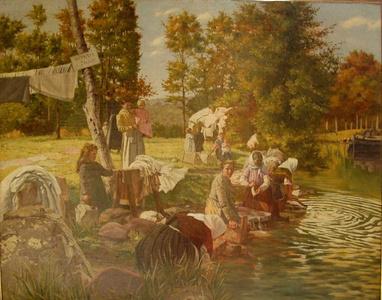 Boulineau is unknown to me but he is now in the league of 19th Century painters, like Degas, who used photography to create a source of material for painters.


Source: Looking for clues, bY Sara Angel March 03, 2011 Eyeweekly.com