Chicken Torpedoes and Tangy Lime Chips
What to do with left-over 6-layer dip, ground chicken and 2 tortillas.
Made for than enough for 3. Took 45 minutes.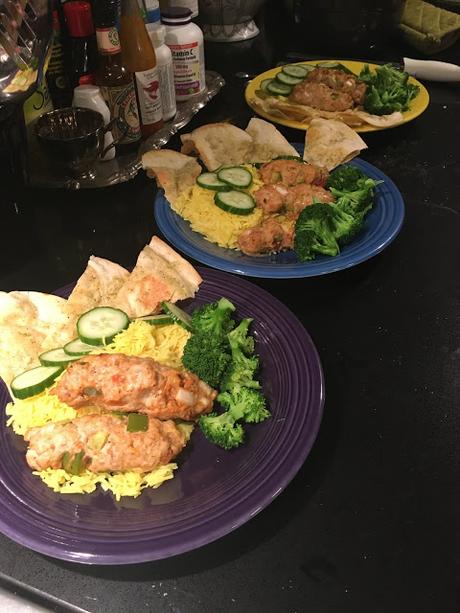 I found this  tasty, however ground chicken is pretty bland and hard to spice up. Without going into too much detail I was going to make torpedo-shaped chicken patties and put them in tortilla wraps. However, unbeknownst to me, we had only 2 wraps left. So I had to improvise.
I took one pack ground chicken, mixed it up with 1/2 cup 6-Layer Dip,(it's gone now),  half a green pepper and about a tablespoon of minced onion, some mysterious chili spice Noah brought home from work and salt. I formed them in to 7, yes 7 torpedo shaped  patties and baked them at 400 for 25 minutes.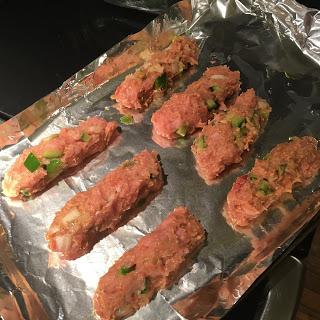 While this was going on I toasted the tortillas in the oven on one side for about 4 minutes to firm then up a little.
I added 1 tsp lime zest to about 1 tb mayo and a squirt from my plastic lime. My lime is from Italy so I feel somewhat better about not using fresh! No Realemon here and added  salt and fresh pepper to taste.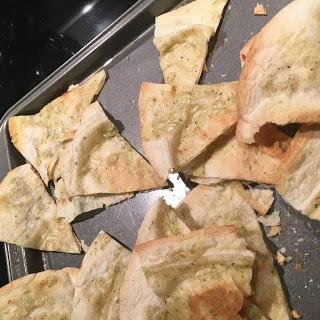 Spread on the cooled tortillas. Put back in the oven for 5-6 minutes. 
When cool enough, scissor into equal-sized triangles. 
In the interim, I boiled some rice, added turmeric for color and boiled some broccoli. 
The meal wasn't bad, but the guys were less than thrilled with the meat. They gave it a 70.5 out of 100. 
Tomorrow: Can I make soup out of the left-over cauliflower? Can I replicate a Jamie Oliver pasta?
#thePlague #PlagueDinners