Brussels Sprouts Soup and a Kind-of-Jamie Oliver Pasta
Makes enough for 3. Took a leisurely 40 minutes.  What can I make with left-over Brussels sprouts, rice and frozen spinach pucks? This was a very green meal, but the greener the better, right?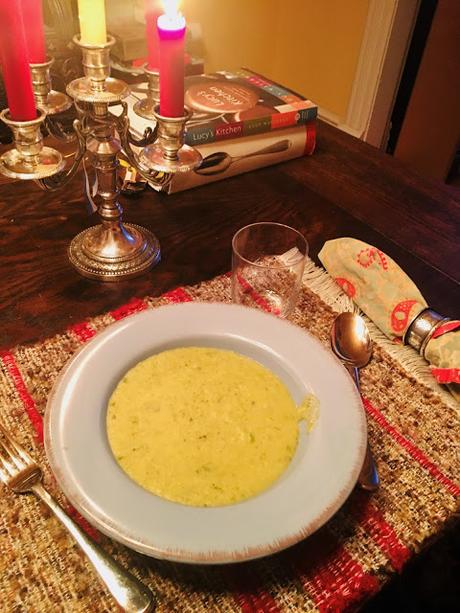 To make the soup:
This soup was very similar in flavor to a main dish I made the other day, so therefore it was yummy.
So I fried some garlic in butter and added 10 tailed left-over Brussels sprouts. Then I tossed in some left over rice (with turmeric) that I made yesterday. (Rice adds a thickness to the soup and will be undetectable once I puree it.) To this, I added my friends lemon zest and mustard. Stirred it about and added 3.5 cups chicken stock. I brought it to a boil, then simmered for 20-25 minutes. Does it need salt? Then I pureed it with an immersion blender. 
The pasta I made used up some thawed spinach pucks. 4 or 5. Steamed.
Once cooled I put the steamed spinach in the "Oscar" blender that I've had since I was 21. I added 1 cup cottage cheese and a healthy dash of sea salt and about 1/2 a cup white cheddar. Parmesan would have been better but I didn't have any.  Then I "blitzed" it for about 10 seconds. 
I boiled the spaghettini for the required time and I added one peeled of garlic to the salted water. I drained the pasta, and rescued the garlic. I added the garlic to the spinach puree and pureed it again for a couple of seconds. 
The pasta goes back in the pot, the puree of spinach goes on top, and I stirred it about until all the pasta is green.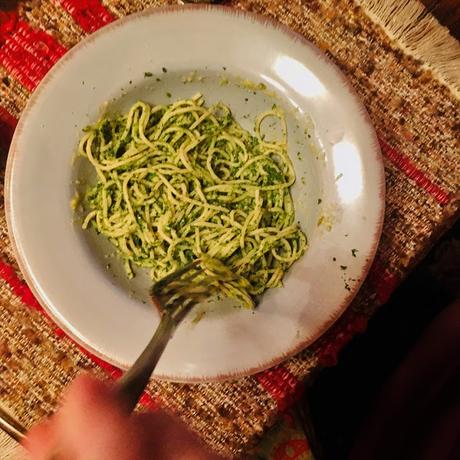 (Jamie makes this with Savoy cabbage, ricotta and parmesan, but I had none of that). I also forgot to take good photos. 
The guys liked it and give it a 8.2 out of 10. 
Next. It's Saturday, so it has to be Spaghetti. Too much pasta perhaps? We'll see.