Have you ever seen a movie that reminded you of another one.  You're not quite sure what's so familiar about it, but yet you can't deny its subtle similarities.
Well then this section was tailored made just for you.  I, The Vern will be comparing 2 movies that either have the same theme or follow the same plot lines, but with  different results.  These articles starting in December will update at least once a month because it's getting harder to come up with new ideas every other week.
SPOILERS******   Be warned I will be discussing both movies and may give away certain plot elements.
If you have any suggestions please leave them in the comments, and I will write an article based on that first choice in two weeks.
This month I decided to go visit some strip clubs in the downtown of cinema-land.   That's right folks, I bring you…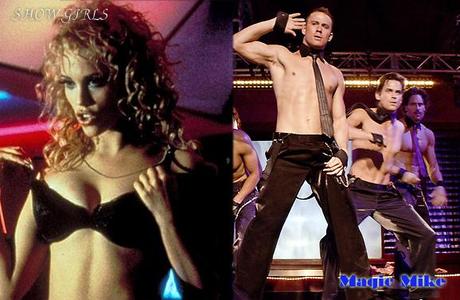 Showgirls Vs. Magic Mike
The Challengers
Showgirls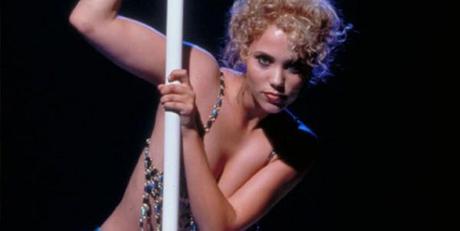 Nomi Malone (Elizabeth Berkley) comes to Las Vegas with one dream.  Her goal is to become a famous dancer and appear as the  headlining star in a Hotel show extravaganza.  But first she'll need to hone her dancing skills at a local strip club.  When the main star (Gina Gershon) of a big show takes an interest in her.  Nomi learns about how really determined she is to land the lead spot.
Magic Mike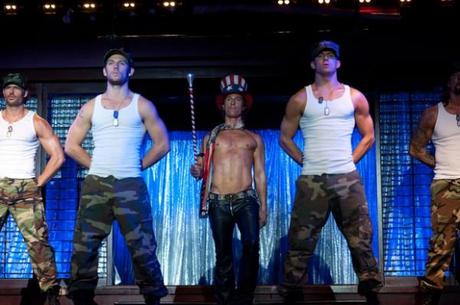 A professional stripper known as Magic Mike (Channing Tatumn) begins showing the new kid, Adam (Alex Pettyfer), how to become the next big star in the career of male dancing. While he is doing that he  becomes interested in the kid's sister (Cody Horn) and eventually wants to leave that world of erotic dancing behind and make furniture.
Similarities
Both movies have scenes in strip clubs and feature heavy amounts of nudity.
Nomi and Mike both have a dream or goal they are trying to achieve.
Adam and Nomi both get tempted to do something other than their profession.  Nomi gets offered to be a prostitute for some business clients and Adam gets offered to sell some drugs.
At one point both Nomi and Mike make drastic choices  to help the friends in their lives.  Nomi avenges her friend for being raped, and Mike helps pay back some gangsters because of a botched drug deal.
Mike is in love with another woman (Olivia Munn) who wants nothing more than just sex. Nomi has sex with one of the producers (Kyle MacLachlan) just to advance her career.
Both Robert Davi in Showgirls and Matthew McConaughey in Magic Mike don't want their star attraction to leave
Differences
Magic Mike is rated R.  Showgirls is rated NC-17
The dance numbers in Magic Mike have better choreography then Showgirls.
Nomi will dive down to some pretty low levels to achieve her dream.  Mike never once betrays anyone during this movie, and many times he has the right to.
Showgirls grossed $37,702,961 on a budget of $45,000,000.  Magic Mike grossed $113,709,992 on a budget of $7,000,000
Magic Mike was directed by Academy Award winning director Steven Soderbergh (Traffic).  Showgirls won Paul Verhoven a worst director award at the Razzies. He accepted the award himself at the ceremony.
Closing thoughts
Despite Showgirls having bombed at the box office it has since went on to achieve a cult fan base. A massive gift set was released to celebrate it's 15
year anniversary and it included a booklet and a shot glass. I was never bored while watching it and if you are looking for a movie to watch with friends you don't have to take serious.  I recommend having a few beers and make a drinking game out of the experience. Magic Mike was a much bigger hit than anyone really suspected, and to the filmmakers credit it surprised me too.  I never found the dance numbers Channing and the boys were doing to be erotic although I'm sure they will be to some people. Yet they were at least entertaining and if I even had half the body these guys had.  I would love to be up on stage and have horny house wives drool all over me.  As for Showgirls, I thought Elizabeth Berkley looked good, but she has no real charm or charisma. Her dance moves and sex scenes were not erotic at all. They are just laughable. That lap dance she gave Kyle MacLachlan was pathetic. There is no real way she got him off with those weak moves she was making.  Magic Mike does suffer from having it's plot become too predictable at times. When Mike befriended Adam we all basically knew that this kid was going to cause some problems down the line.  Also I never really got why Mike would be into Adam's sister. She's not really that attractive or interesting. Both movies are worth seeking out, but I would start with Magic Mike. Guys, trust me on this. There is really nothing sexual about this movie unless you think.  If you think a movie about guys who take off their clothes to get women is gay. The problem lies with you,not the movie.