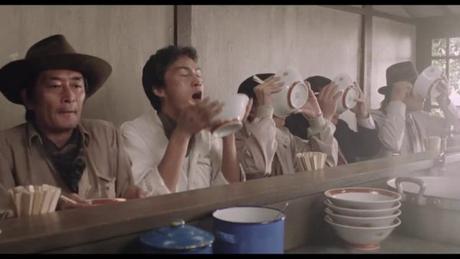 Juzo Itami's 1985 "ramen western" is quite the feast. The newly restored Tampopo certainly lives in the world where noodles, sex, and film intertwine. Having long only been available on a poor DVD quality print, the film has been lovingly brought back to life with a 4K print by Janus Films (One can expect a new DVD and Blu-ray release will be from Criterion in 2017). While there is one overarching story, Tampopo features plenty of other stories to sink your teeth into. Often times hilarious, it's a true cinematic treat that Tampopo has been restored.
There are plenty of films that can be cited as foodie films. These films such as Babette's Feast and Ratatouille spend an inordinate time reveling in the glory that is food. If you thought those films were the height of food love, then you just haven't seen Tampopo yet. The main story follows ramen store owner Tampopo (Nobuko Miyamoto) on her journey to have the best ramen shop in town. Goro (Tsutomu Yamazki) and Gun (Ken Watanabe) are her would-be savors as they show her the ropes and guide her to have delectable ramen. A lot of typical training montages are interlaced throughout the story, but you start to generally feel for the widowed Tampopo and her journey to make her restaurant the best in town. The main story isn't without its hilarity either as what Goro lacks in fighting ability, he seems to know all the steps to killer ramen.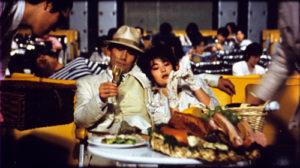 While that story is exciting and fun in its own right, Itami isn't just going to give us one course. Speckled throughout the story are short asides with feature entirely different actors and stories. Some of the most bizarre moments are within these stories. There's a repeated couple that seems to love food even more than they love each other. They experiment with food and sex in fascinating ways and in probably the most iconic sequence in the film, they pass an egg yoke between their two mouths without breaking it. It ends with a climatic finale that might be equal to any sex sequence you've seen in movies.
Some of the other side stories include an elderly woman who shops by squeezing every item at the supermarket for freshness, a man who is not supposed to be eating noodles but does so anyways, and a woman who has just died, but she awakened to cook one last meal for her family. As is the case with most sequences like this in movies, some are more successful than others. That doesn't mean that they aren't worth the time, but rather a tasty appetizer.
There are many films that proclaim their love for food. Tampopo takes that love to another level. It's a love letter to a particular style of film, the American Western, as well as a rollicking good time. By the end of the film you may question what you've just watched, but you certainly do so with a large smile across your face.
About the Author