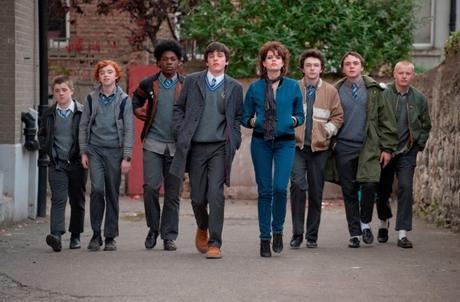 The new John Carney musical Sing Street hits all the right notes and is another successful musical for the director. We had the opportunity to sit down with two of films' stars Ferdia Walsh-Peelo and Mark McKenna. They told us a little about how it was working with the acclaimed director and some of the influences of popular media on their own story of 80s rock stars.
Sing Street is really about the relationship between Conner, Eamon and their families. What is your relationship with your family?
Ferdia: This is my mother here [points to his mother]. Terrible. Nah It's great, it's really good. My family is nothing like Connor's. My family supports me and it's a family of musicians. They understand me and it makes everything easier. I'm taking the year off school and I wouldn't be able to do that without my family.
Mark: My family. My mom and my sister aren't very musical orientated. Dad was much more so. My parents were always laid back. When I was 15, I told them I wanted to be a musician they were like okay. When I went for Sing Street, I told them I wanted to try acting, and they were like go ahead. Then when I got Sing Street, they were like holy shit. They are a very supportive family.
Ferdia: Your dad is a man of very few words isn't he?
Mark: Yeah.
Ferdia: Every time I've seen him he speaks very little. A few weeks ago we were off to London and at the airport is the first time I've heard him speak. Every other time, I lean into the car when Mark is getting dropped off and I'm like hi and he drives off before I get to talk to him.
Mark: Yeah my dad is very soft spoken.
Ferdia: Mark's Dad's name is Eamon and he is just like a older version of [Mark's] character.
What is your relationship with each other? 
Mark: The whole cast was really, really, close.
Ferdia: Really close.
Mark: We just make fun of each other all the time. We just call each other pricks and that's how you greet your friends in Ireland.
Ferdia: Yeah it's pretty horrible. Makes me feel really bad. Sing Street was just so special for all of us. The fact the guys are all the same age and we shared this experience together. We are all so drastically different but we have this thing to share that keeps us together. The fact that we are so different, keeps us together so well.
Ferdia: When you see people in these customs and you see them on their bad days, you become close no matter what because you see the person behind the skinny jeans.
Mark: The first time Ferida and I spoke to each other was when we first got into costume and they were putting tin foil on our face. Ferida just goes "what's going on?" and I go "I have no idea".
What is the most important theme you want people taking away from the film?
Ferdia: The one that sticks with me. A teenager and music. At first, the music is Connor's way of impressing this girl and is sort of therapy for him in this crazy new school. It becomes much more than. That's always the way it goes especially when somebody continues with music. It starts off I'm going to start a band, girls will love it, but it becomes much more than that. It is something that Connor finds refuge in.
John Carney has made musicals before. Was that intimating or inspirational to your process? 
Mark: It was really neither. John's very cool about those things.
Ferdia: I didn't even know it was John when I met him.
Mark: On set, John made sure we knew we were teenagers playing teenagers. Just be a teenager that plays music.
Ferdia: John is no way intimating, he's like a big kid himself.
Mark: The scene on the pier when we were doing The Cure, John was teaching us a game that would play with your mind. All these magic tricks. It was like John we have to do a scene and he was like "wait one second I'm doing a magic trick".
Any other films you kept in mind or watched that shaped the feel of this movie? 
Ferdia: Some of the moments of in the film are really John Hughes vibes. John [Carney] really doesn't want to bring up other directors, but I very much had that feeling in mind. It had that kind of heart in it.
Mark: I thought of Eamon as a Wes Anderson kind of character. Sort of like Rushmore.
Ferdia: Wes Anderson came up quite a bit. Lucy [Boynton] and I watched The Royal Tenenbaums before we worked on the film. Some of the conversations in the film definitely take inspiration from it.
Ferdia: The main thing we looked at was tons of music videos. You get the vibe and the whole feeling of the generation from the music videos.
The MTV era was a big part of that movie, were you turned on to any particular bands or music during that era?
Ferdia: Absolutely. That song "Pop Musik" it's such a feel good song. Even though it is terrible. It is so bad, it is pure art. If you play guitar you know it is just three strings. There's nothing to it, but even the music video has the ridiculous shots of peoples shoes. Classic 80s shot of people walking and focusing on the feet. You really pick up on it in that music video.
How did you guys handle switching between the different dramatic tensions throughout the picture? 
Ferdia: I really enjoyed both. The scenes that were more intense and personal and then the scenes we were shooting with the lads. Those days were like a break for me. The other days were really fun as well, but just left me really exhausted. Like that scene on the island, that was my first day on reshoots. I've never been that tired in all my life. It was mental.
The "Drive It Like You Stole It" scene reminded me a lot of the Prom sequence in Back to the Future. Would you agree to that similarity? 
Ferdia: Yeah. Absolutely. I mean it is different as well. It might be that in Connor's eyes. It was just them making a music video if they had a big budget. The sequence was shot in the middle of the production. It was really really fun. No pressure.
Mark: That scene was a two day shoot. We had to learn a dance routine. They taught us the dance and then they didn't even use it. When asked why did they make us do it, they told us it was funny.
Sing Street is currently in limited release. It opens in Boston this Friday.