More share buttonsShare on Pinterest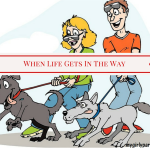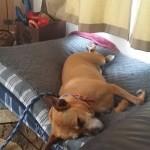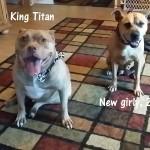 I must apologize for skipping my weekly Monday post, but I have good reason. 
Life got in the way.
We've added a new addition to our family!
Let me start off by saying, this has been in the works for over a year. We've been wanting to add to our family but wanted the timing to be right and needed to find the perfect addition. After considering all the financial aspects as well as other priority responsibilities of adding another life into our family, we made the move.
Introducing Zue (pronounced Zoo)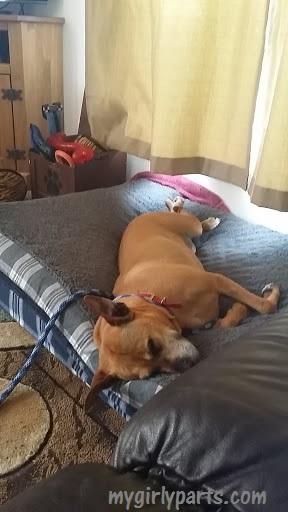 Zue is a 7-year old Boxer/Pit Bull mix. Zue came to stay with us this past Saturday and I've been busy ever since. The initial greetings and transition a new dog into our home has been more than I anticipated, however, I don't regret it.
I'm already an over paranoid furmom to Titan so what's adding another into the mix? Well, if think I should have planned ahead and doubled up on my anxiety meds. The transition is a bit stressing being that both dogs are:
Both wanting to the be "Alpha" of the house
Bigger dogs with big teeth
Titan's body size is much larger than Zue's
Playtime can get a bit out of hand so we are limiting it
Security is the utmost importance while we are away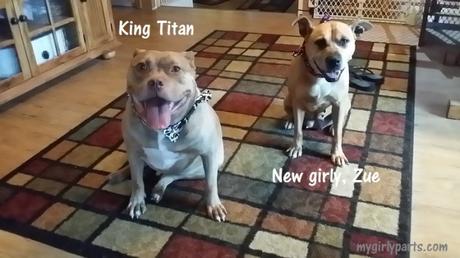 So yes, there are so many things that come into play when you just can't pick up a dog and remove it from the situation. I'd like to see you pick up Titan who weighs 80 lbs of pure American Bulldog/Staffy.
Life has gotten in the way
Again, I don't regret our choice, however due to the addition I've taken vacation from work to ease the transition and to learn the quirks and temperaments of Zue as well as the two together. Yes, it's been trying my patience but I know we'll get through it…….in time.
Trying to set routines and boundaries
Like with adding a child to a family, adding a new dog is no different. The new dog will challenge you. Push you to see how far they can get. If there is already a dog in the home, the new may challenge it. This is what is happening in my home. Zue challenges Titan and Titan is not ready to back down.
Enter the Momma Alpha
Yes, that would be me. I've had some tough times with getting Titan to acknowledge me as the Alpha of the house and now I am being challenged by yet another pup. Not only that, I'm trying to establish the "pack order".
Let's just say, the other two aren't enjoying it. In time, it will come. I have faith.
All this said…..
My blogging schedule may be a little off. I've been trying to post updates to my Tumblr account as well as my Facebook page. The transition may take a while but rest assured, I haven't forgotten you. I hope to be back to posting on my normal routine sometime in the Fall. Until then, please be sure to Subscribe so you don't miss a post.
A few great things about dogs

Can you see all the value in having a dog in your home, let alone the bonus of having two? Trust me when I say, the two of them are burning me out.

Over to you
How many of you have a dog or dogs in your home? Have you introduced a new dog into already established dog family? How did you manage?
I'd love to hear from you.

450303Share on Pinterest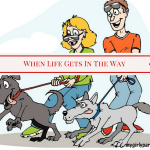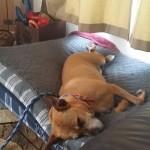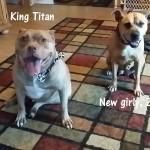 More share buttons0Share with your friendsYour Name
Your Email
Recipient Email
Enter a Message
I read this article and found it very interesting, thought it might be something for you. The article is called When #Life Gets In The Way #Infographic and is located at http://www.mygirlyparts.com/2015/07/when-life-gets-in-the-way/.
Captcha
Submit