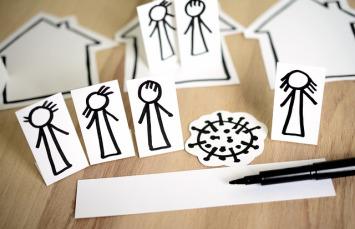 Violence & abuse in the home during confinement due to Corona pandemic: support in Belgium.
I want to post about a group who are vulnerable at this time, and may be in a difficult situation which is made more difficult if you don't speak Dutch or French; that group is women & children in abusive family situations.
For people in this group, work and school are the safe places -not home. The added dangers to them during this period of confinement are obvious. Sadly, police and support workers are expecting an increase in domestic violence and abuse. Current circumstances mean that some women and children will find themselves spending the vast majority of their days and nights at home with their abuser(s).
If this is you, or a someone you know, please be aware that there is a number to call on this website:
https://www.ecouteviolencesconjugales.be/
There is also this site, which additionally includes numbers for children and young people.:
also for children and young people: http://nupraatikerover.be./
(you can also contact this site if you are worried about someone else)
There is also this article in Nieuwsblad, but it is in Dutch and behind a pay wall – you can make an account to read a few articles for free.
https://www.nieuwsblad.be/cnt/dmf20200317_04892641…
Here is an explainer in English about contacting the police.
PLEASE feel free to share this information in groups that you are in -or on your Facebook or Twitter status.
NB: If you supply this information to a woman or family you suspect may be at risk, please do so very carefully and discretely: abusers often monitor the communications of those who they abuse.
Find & Follow #nessascityblog
ON: Facebook (Events in Antwerp)
Email: [email protected]
& check out #nessascityblog on Twitter & Pinterest & Instagram
View this post on Instagram

#socialdistancing seemed to be working well on the bike path today. #cycling back from #Ekeren #antwerp #antwerpen #bike #biking #cycling #fietsen Picking up some work to take home during #lockdown #coronavirus #coronaBE #corona #Coronabelgium #covid19 #Coronabelgie #nessascityblog #thisisantwerp #workathome #workfromhome

A post shared by Vanessa McC (@nessascityblog) on Mar 18, 2020 at 7:15am PDT