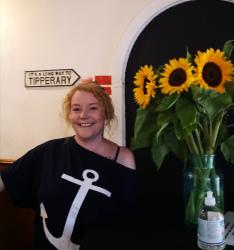 Audrey Molewska runs Molly's Irish Pub on the Jezuitenrui. Nessascityblog got to ask her a few questions and the answers revealed not just some facts about a local business – but a story with a big heart.

Hi Audrey! Can you start by telling us about Molly's -where and what sort of pub it is?
Molly's (Jezuietenrui 4) is currently Antwerp's oldest Irish Pub. A little off the main streets of Antwerp, we're very much a hidden gem. We're not so much a tourist bar; mainly more for the expats (although EVERYONE is welcome at Molly's!).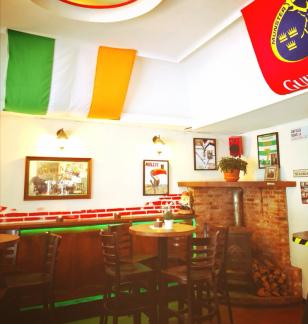 The greatest thing about Mollys, in my opinion, is the sense of family: for a lot of us this is our "home away from home", and the friends we make here are our family. Then there's the regulars – those countless number of wonderful people-  friends- who have frequented this pub, some for more than twenty years. We'd never last without them. Our prices are fair, the Guinness is great, we showcase proper trad music, plus there's more sport to watch than you can shake a stick at! Whoever crosses our door gets a warm Irish welcome that will keep them coming back for more. The staff care, the customers care….we're family …Dysfunctional sometimes, but what family isn't?!
 What about you? Where are you from and what's your work background?
I'm from Swords Co. Dublin, Ireland and I moved here in 2012. It was a classic case of "Woman In Love Follows 'Love of Life'" and sets up home here. I worked in a number of well known Irish bars  (bringing twelve years experience with me from home) but I never found the right fit for me. Staff and management in the larger bars never seemed to care about the customer, being more about the turnover. Something as simple as not knowing a regular customer's name is unacceptable to me. I decided I needed to have my own place in order to stop working for people I couldn't respect, and be able to really start giving people what they wanted…a PROPER IRISH PUB. I won't claim to be the only one these days, and I'll give a shout out to others operating with the same ethos: The Highlander, The Northerner, An Sibhin, and The Corner House. 
What do you like about living and working in Antwerp?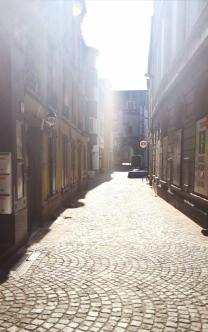 Jezuietenrui, where you will find Molly's
I LOVE living in Antwerp! My first six years were spent living in Limburg, and then Kasterlee (both beautiful places) but when I finally moved to Antwerp, it was the missing link! Finally, I had the support I lacked before, the city life that revived me, the acceptance and help I never properly received (in my busy life I've never fully mastered the language despite my attempts!). It's never easy, but it's easier than before!
I love how cosmopolitan Antwerp is. The people are so helpful and friendly.  In these times I see us all, as small local businesses, trying to  band together, regroup, and try to support one another!  Perhaps the "family element" of Molly's is evident in a lot of places in Antwerp!
How did Molly's survive the shutdown, and how is re-opening going?
With difficulty like many. Finances were a constant juggle, alongside supporting a family. We missed our customers and our family. We stayed in constant touch with regulars and friends to check on their health and to see if they needed help.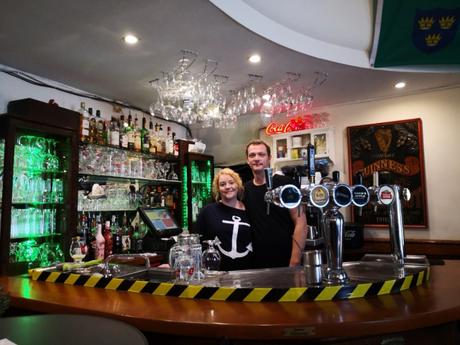 Near re-opening time, we put out an S.O.S to our lovely regulars to see who could provide some skills and help to make a "NEW MOLLYS" for our customers….the response was overwhelming! We now have a whole new look; it's spotlessly clean with a new-look terrace, and we plan to keep making more changes as the months go on.
We're all hoping (touch wood!) that there will be no second wave – all being well, what are your future plans for Molly's? 

As stated, more renovations and possibly an extension in the future to provide our customers with an authentic Irish Kitchen. This is "phase 1" as we call it….hopefully there's more to come!! And to all who helped: you know who you are – Molly's would be lost without you!

Find Molly's on FacebookEmail: [email protected]
Find & Follow #nessascityblog
ON: Facebook (Events in Antwerp)
Email: [email protected]
& check out #nessascityblog on Twitter & Pinterest & Instagram
View this post on Instagram

Good morning, #antwerp What a beautiful day #thisisantwerp #visitantwerp #antwerpen #stadantwerpen #discoverantwerp #instantwerpen #vierkantwerpen #Belgium #anvers #amberes #anversa #antwerpphoto #nessascityblog #mas #masmuseum #eilandje #antwerpcity #cityofantwerp #portofantwerp

A post shared by Vanessa McC (@nessascityblog) on Jun 26, 2020 at 12:50am PDT