ITAKA Zuidrand language school is pleased to announce that it will hold its annual 'open door' event on September 12th and 13th in Edegem. We will offer various activities throughout the day in the garden of the music academy. Visit our Facebook page or website for more information.
Tel: 03 457 59 22 (during the school year)
GSM: 04 86 53 09 15
Email: [email protected]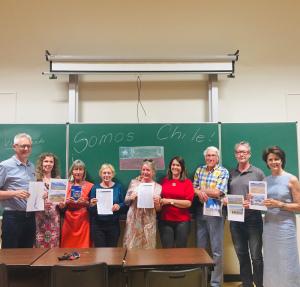 A Spanish Class at ITAKA
Registrations are ongoing. Please rest assured that, in accordance with the government advice, all COVID-19 protective measures have been put into place. Please see the website for course offerings. The 2020-21 school year begins in the last week of September.
The school caters to adult learners, particularly for those over 50 years old and seniors. Courses include English, Chinese, French, Italian, Portuguese, German, Dutch, Spanish, Russian, Art History, Music History. The school has a no stress philosophy, which means no exams. ITAKA Zuidrand has four campuses in and around Antwerp.
WE HOPE TO WELCOME YOU AT THE OPEN DAYS!
Find & Follow #nessascityblog
ON: Facebook (Events in Antwerp)
Email: [email protected]
& check out #nessascityblog on Twitter & Pinterest & Instagram
View this post on Instagram

Unexpected good weather = terasje doen @fabrikantwerp next to #theaterplein #antwerp #antwerpen #antwerpcity #thisisantwerp #visitantwerp #nessascityblog #stadantwerpen #vierkantwerpen #instantwerpen #foodinantwerp #antwerpfood #lunch #lunchinantwerpen. Good food, casual. Friendly service.

A post shared by Vanessa McC (@nessascityblog) on Sep 9, 2020 at 5:39am PDT