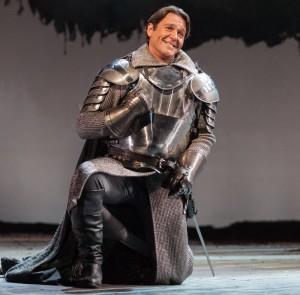 Baritone Nathan Gunn gets the girl in Glimmerglass's 'Camelot' | photo by Karli Cadel
When he's not in an opera–of course!
Take that same operatic baritone and give him a principal role in musical theater? All of sudden the villain, the rake, the tortured king/prince/swami is raking in the babes instead of handing them off to the precious tenore to have and to hold.
"Sure I get the girl. But only fleetingly–for a few seconds. Then she's off to a monestary," Gunn said, after an artist Q&A presented yesterday at 2013 Glimmerglass Festival, NY following the matinee of Camelot in which he plays Sir Lancelot du Lac.
When it comes right down to it, I'm not entirely sure why baritones rarely get the girl in the world of opera. Or who decided baritones constituted the leading man vocal part in musical theater.
It would be awfully nice to show operatic baritones a little more love. What say you, composers? Turn this classic art form on its head. Stop making perfectly good baritones look for love in all the wrong places (like great musical theater roles). Start giving baritones some cred (and a fighting chance to bed).
Change it up a little, for pity's sake. The tenor doesn't always deserve the girl anyway, whereas the baritone always knows what to do. He's got swag and swagger. He's been looking on at the climactic love scenes unfolding before him while hiding in the wings. He's been practicing for centuries.
Whaddya say? Put him in, coach. He's ready to play.