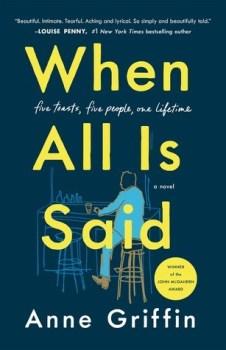 When All Is Said by Anne Griffin
Published by Thomas Dunne Books on March 5, 2019
Genres: Family Life, Genre Fiction, Literature & Fiction
Pages: 336
Format: ARC, eBook, Paperback
Goodreads



"An extraordinary novel, a poetic writer, and a story that moved me to tears." —New York Times John Boyne, bestselling author of The Boy in the Striped Pajamas




"I'm here to remember–all that I have been and all that I will never be again."

If you had to pick five people to sum up your life, who would they be? If you were to raise a glass to each of them, what would you say? And what would you learn about yourself, when all is said?

At the bar of a grand hotel in a small Irish town sits 84-year-old Maurice Hannigan. He's alone, as usual ¬- though tonight is anything but. Pull up a stool and charge your glass, because Maurice is finally ready to tell his story.

Over the course of this evening, he will raise five toasts to the five people who have meant the most to him. Through these stories – of unspoken joy and regret, a secret tragedy kept hidden, a fierce love that never found its voice – the life of one man will be powerful and poignantly laid bare.

Beautifully heart-warming and powerfully felt, the voice of Maurice Hannigan will stay with you long after all is said and done.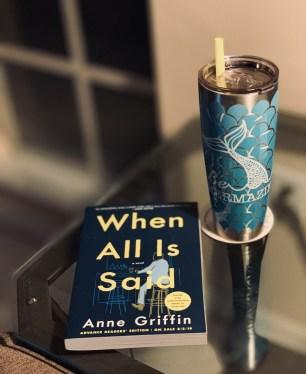 I thought I had heard of this author before when I saw When All Is Said by Anne Griffin available on NetGalley so I requested the opportunity to review the book and was approved. 
Then later, I entered a Goodreads Giveaway for this book with the same mindset and won a copy so I was super excited.  By the time the book arrived, I realized I must have been thinking of an author with a similar last name after all, so I wasn't quite sure what to expect when I started reading.
Now onto the story…….  
84-year-old Maurice Hannigan takes a seat at the Rainford House Hotel in a small Irish town. Earlier, he had booked himself an exclusive suite at the hotel and tidied up his affairs before doing so.
Before the night is over, he will toast five people who made an impact in his life. During his toasts to each person, Maurice tells his life story — the good, the bad and the ugly in some cases.  As you can guess, the story is told in five parts – one for each person in his life who had a big impact on Maurice. The five people he toasts are his brother, Tony, his daughter, Molly, his daughter, Noreen (aka Auntie No-No), his son, Kevin, a journalist who emigrated to New Jersey, and most importantly, his wife, Sadie.  
Maurice rambles a bit as he shares his stories — he sometimes leaves a story unfinished and chases a rabbit or two, but it makes his story-telling more realistic.  At the end of the story, Maurice has pretty much filled in all the blanks of his life and while the ending of the book is pretty obvious from the beginning, it didn't make it any easier when it came for me. 
The story is beautiful and moving. In reflection, I am beginning to wonder who my five people would be.  If you are anything like me, you will need to have some tissues ready for this book, and block out a day or two, because you'll want to read it cover to cover!
---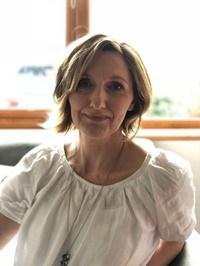 Anne Griffin is an Irish novelist. She was educated at University College Dublin where she received her MA in Creative Writing
Anne was awarded the John McGahern Award for Literature, recognizing previous and current works. Among others, she has been shortlisted for the Hennessy New Irish Writing Award and the Sunday Business Post Short Story Award.
Anne's debut novel 'When All Is Said' will be published by Sceptre in the UK and Ireland on 24th January, 2019 and by Thomas Dunne Books in the US and Canada on the 5th March, 2019. It will also be published by Rowohlt Verlag in Germany, Delcourt in France, by Harper Collins Holland in the Netherlands, by Wydawnictwo Czarna in Poland, and by Tyto Alba in Lithuania .
---
I received an advanced readers digital copy of this book from St. Martin's Press through NetGalley in exchange for my honest review. I also won a hardcover copy through a Goodreads Giveaway.  I was not required to provide a positive review in either event.

~ ~ ~ ~ ~ ~ ~ ~ ~ ~ ~ ~ ~ ~ ~ ~ ~ ~

It would be great if you would stay connected with me!! You can follow me on Twitter @DebiL1611, like me on Facebook at 2014 and Beyond, circle me on Google+, follow me on Tumblr, Instagram and Bloglovin', subscribe on YouTube, or connect with me on LinkedIn and Pinterest.

Please make sure to visit my homepage and subscribe to my blog for more great posts on running, fitness and lifestyle topics as well as food, product, music and book reviews, and more!